Local News
Bonham City Council orders general election May 5
Feb 14, 2018
Bonham -- At a regular meeting Monday, February 12, 2018, Bonham City Council approved an order calling for an election to be held May 5, 2018 to elect council members for the at-large and mayoral positions.
The at-large city council seat has been vacant since the death of Bob Thomas in June 2017. This will be a contested race May 5, with Teresa Stapp and Wayne Moore currently filed as candidates.
The final day for candidates to file is Friday, February 16.
Bonham Mayor Roy Floyd has filed for re-election and is currently running unopposed.
Early voting at Bonham City Hall will run April 23 through May 1 during normal business hours at Bonham City Hall, with the exception of extended hours of 7:00 a.m. until 7:00 p.m. on April 26 and again on May 1.
Due to restoration of the Fannin County Courthouse, the city election, along with the school board election, will be conducted at Bonham City Hall.
*****
In the public forum segment of the meeting, Emily Porter touted the remarkable group of black athletes who will speak February 24 at Bailey Inglish cafeteria.
"If you have children or grandchildren, try to get them there," Ms. Porter remarked. "This will be inspiring as well as informative."
Lonnie Bennett, Michelle Johnson Williams and Lonell Phea are among the panel of athletes who will speak February 24 in Bonham.
Porter also gave councilmembers brochures developed by the City of Bonham that will be distributed at the Fort Worth Home & Garden Show.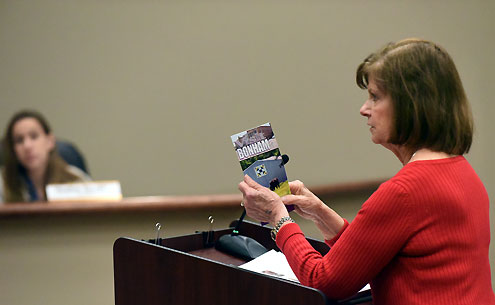 Emily Porter displays a brochure designed for the City of Bonham.
Mavis Duncan told councilmembers that the 5th Annual Red River Art Fest at Creative Arts Center is slated for Saturday, April 14.
"The belly dancers will be back!" Ms. Duncan exclaimed.
*****
Dave Struchtemeyer, CPA, Director of Finance for the City of Bonham, presented the financial report for the month ending January 2018.
"We continue to run unfavorable in the street department as we are still waiting for a disaster relief reimbursement from FEMA that will partially offset the cost that was incurred for repairs to the Mainstreet bridge," Mr. Struchtemeyer reported. "Ad valorem receipts through the month of December are almost 60% collected and we are expecting to collect the majority of the outstanding ad valorem revenue in January and February. Sales tax collections for the month of February were 6.3% lower than February collections last year, which could be due to the cold weather we have experienced during that time period. Cumulative for the fiscal year through February, collections are almost 4% higher than sales tax collected through February of last year."
"McClanahan and Holmes called last week to report that their Audit Manager that was assigned to the City and BEDCo audit has left the firm," Struchtemeyer added. "We have been assigned another Audit Manager, but there are two audits ahead of ours, so they will not be starting field work this month."
*****
Bonham City Council approved the authorization of bids for improvements mandated by TCEQ in order to bring the Wastewater Treatment Facility up to required specifications.
*****
Councilmembers also ratified two recent decisions by the BEDCo Board of Directors.
BEDCo had tentatively accepted a proposal from KSA for professional service to develop a concept plan for BEDCo Lot #1 and adjoining parcels.
Bonham City Council also approved the BEDCo board's decision to make an additional $7,000 available for the Downtown Bonham - Save Our Structures program.