Local News
Code Enforcement for the City of Bonham: Garage sale signs, political signs
Feb 27, 2018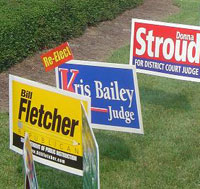 I know that there has been a lot of confusion about garage sale signs and political signs. I want to thank the citizens of Bonham for their help in controlling garage sale, business signs, and political signs, at least on the corner of Russell and Center, and 9th and Center. The traffic congestion was overwhelming in the past. I wrote an article a few months ago about which signs are legal and illegal inside the city limits of Bonham.

Bonham City Ordinance Sec. 3.15.006 - Prohibited signs states that the following signs are prohibited,(not allowed) inside the city limits; Private signs,(garage sale signs, business signs, personal advertisement signs), mounted or supported within or on public property or rights-of-way, including but not limited to signs on utility poles, streetlights, bridges, sidewalks, and public rights-of-way or easements.

Signs, other than traffic-control or public directional signs, located within the 25' sight triangle of any intersection. This includes that portion of right-of-way and private land on a corner lot within a triangle formed by a diagonal line extending through points on the two property lines 25 feet from the street corner intersection of the property lines, or that point of the intersection of the property lines extended and intersecting the curb line or edge of roadway. Unsafe signs which are deteriorated, dilapidated, and/or present a danger to public health, safety, or welfare. Any commercial signs, such as common standing signs, wall of fascia signs on storefronts, roof signs, canopy sign, projecting sign, and projection signs require a permit that can be purchased at City Hall.

Political signs are subject to the same regulation as personal signs according to the ordinances adopted by the state of Texas, except a permit is not required.

I know that our city and the downtown square is kind of chaotic with all the political signs around it, and we are in discussion now on the future of political signs. We also are allowing garage sale signs to be put up on the 900 Block of W 5th St. This is the street that runs in front of the Armory.

We feel this is a safe street to allow the signs to advertise your sale.

However, we will be monitoring this street, and will allow 3 days to remove your sign after the date of your sale.

You may also put a sign on your property, at least 5' from the roadway. Again, thank you so much for helping us keep Bonham a safe and clean city.