Obituaries
Linda Walker Bishop
Feb 13, 2018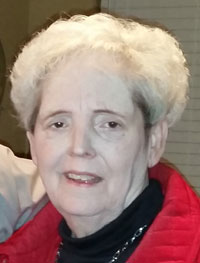 Bonham, Texas -- Funeral services for Linda Walker Bishop, 70, of Bonham will be held 3:00 p.m. Thursday, February 15, 2018 at Wise Funeral Home Chapel in Bonham, Texas. Officiating will be Rev. Dr. Gene Owen. Interment will follow at Willow Wild Cemetery in Bonham, Texas. Linda passed away on February 13, 2018. She was born July 28, 1947 in Bonham, Texas to Barney Ray Walker and Lottie Mae Hardy Walker.

Linda married Deryl Bishop on October 25, 1968 in Bonham, Texas. She worked for Gibsonís, JB Hunt, and Walmart, where she retired after 12 years. She enjoyed shopping and talking to her friends on the phone. She loved music and always tried to attend church, even going when she didn't really feel well enough to go, and she had fun participating in Deryl's Elvis collectables.

Linda was preceded in death by her parents, Barney Ray Walker & Lottie Mae Hardy Walker and grandsons, Cameron Kyle Capehart in 1998, and Nicholas Seth Capehart 2015.

Surviving are her husband of 49 years, Deryl Bishop; daughters, Tracey Mason of Grand Prairie, TX; Sherry Capehart and husband Jonathan of Trenton; grandchildren, Addison Capehart, Josh Lindsey, Katey Lindsey; brother, Barney Walker of Elkhart, TX.

Donations may be made in memory of Linda Bishop to the Nick Capehart Memorial Scholarship Fund at Fannin Bank in Bonham.

The family will receive friends at 2:00 p.m., one hour before service on Thursday, at the Wise Chapel.

An online guestbook is available at www.wisefuneralhome.com.