School News
Bonham ISD introduces YAM (Youth Aware of Mental Health)
Feb 20, 2018
Bonham ISD has partnered with the Texoma Health Foundation, Glaser Family Charitable Foundation, and UT Southwestern to help build resilience in our youth.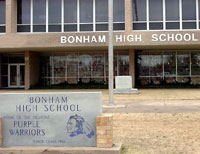 On Tuesday, February 20, from 6:00-7:00 p.m. at Bonham High School, BISD parents of 8th, 9th, and 10th grade students are invited to get information from Jennifer L. Hughes, PhD, MPH, an Assistant Professor and Licensed Psychologist at the UT Southwestern Center for Depression Research and Clinical Care (CDRC) on the YAM program.

YAM, Youth Aware of Mental Health, is an interactive program for adolescents promoting increased discussion and knowledge about mental health, suicide prevention, and the development of problem-solving skills and emotional intelligence. YAM encourages the development of a large set of skills and knowledge about mental health.

This program brings different learning methods together with the fundamental components of the program which are: five interactive sessions, informational reading materials and posters for display in the classroom. The program's materials are designed to convey information about mental health, coping skills and emotional intelligence to adolescents, while at once not overwhelming them with complicated information, and allowing each participating group to influence the content. The adolescents learn from both a professional and from each other through a mix of cognitive, emotional and experiential learning.

Please join us Tuesday, February 20 as Dr. Hughes discusses research on resilience/wellness and the importance of depression prevention and useful tips for fostering wellness at home, school, and in a community.