Entertainment
'Jewel of the Plains' - the story of the restoration of the Donley County Courthouse
Feb 27, 2018
Fannin County, Texas -- As Fannin County residents await the lengthy restoration of their historic 1888 courthouse, perhaps meaningful information can be gleaned from studying how this process played out in other counties that have successfully completed this same challenge.
Although several counties that are geographically near Fannin County have already restored historic courthouses -- Lamar, Hopkins, Red River, Denton and Cooke counties, to name a few -- the pre-restoration Donley County Courthouse in Clarendon had one thing in common with the Fannin County Courthouse in Bonham; both structures suffered from modifications that greatly detracted from the buildings' appearance.
This is a brief story of the Donley County Courthouse, only now they proudly refer to her as the "Jewel of the Plains."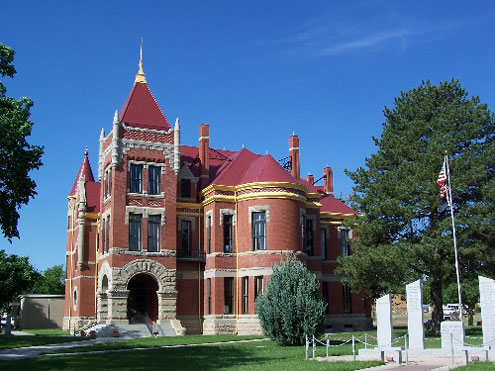 photo by Rhonda Aventi
Clarendon, Texas, the county seat of Donley County, was founded in 1878 as one of the three original Panhandle settlements. Local cowboys of that era would scowl and call the Methodist community "Saints Roost" because it was a sobriety settlement, a stark contrast to the rowdy, saloon-filled towns commonplace in the late 1870s.
In 1878, Clarendon had a newspaper, The Clarendon News, that was written locally, mailed to Oshkosh, Wisconsin where it was printed before being sent by rail to Sherman, Texas and then freighted overland to the fine folks in Clarendon. Obviously, they loved their news and evidently they still do; 138 years later the publication now known as The Clarendon Enterprise continues to be an award-winning newspaper. Years ahead of the industry trend, Clarendon Online was launched in 2000. In fact, 15 years ago the editorial team at North Texas e-News was studying the success of this online newspaper in the Panhandle in preparation for their own launch in Bonham.
So, in 1878, Clarendon was settled and had a newspaper. Twelve years later, in 1890, the citizens of Donley County erected a stunning three-story Romanesque Revival stone and brick courthouse. Meanwhile, in Fannin County, residents had watched their towering three-story limestone courthouse take shape in 1888, designed in the Second Empire style of architecture favored by Waco-based architect Wesley Clark Dodson.
Fannin County occupied its courthouse in 1889.
Donley County opened the doors of its courthouse in 1891.
Decades later, the statuesque appearance of both courthouses would be diminished significantly.
In 1929, fire destroyed the bell tower, roof and central part of the Fannin County Courthouse to the extent that part of the clock from the bell tower fell all the way through to the basement. Then, in 1965, in an effort at modernization, this historic limestone structure was encased in thin sheets of man-made leuders stone.
It was water damage from a leaky roof that would take a tremendous toll on the Donley County Courthouse in the 1930s. In 1937, the third floor was removed and a new roof was installed, although the second floor was plagued by water damage and bat infestation.
While restored historic courthouses are a source of local pride, generate economic development and stimulate tourism, for counties like Fannin and Donley, the cost of restoration was prohibitive.
Then, in 1999, the Texas Historic Courthouse Preservation Program was established to allow Texas Historical Commission (THC) to partner with local communities to restore and preserve Texas' famous collection of historic courthouses.
In 2000, then-Fannin County Judge Derrell Hall applied to THC for a courthouse restoration grant, but Fannin County didn't score high enough to win a grant in the competitive process.
Also in 2000, then-Donley County Judge Jack Hall submitted a master plan for complete restoration and THC awarded a construction grant of $3.1 million in round one of the grant process. Restoration was completed in 2003 and Donley County has the oldest functioning county courthouse in the Texas Panhandle.
In one form or another, important issues are usually settled by voters in a democracy. Although Donley County Commissioners Court chose to approve courthouse restoration without placing it in front of voters on a ballot, the pro-restoration county judge found himself facing an anti-restoration challenger in a local election that doubled as a de facto referendum on courthouse restoration. The pro-restoration county judge would go on to be re-elected with 71 percent of the vote.
The election served notice that while a minority of Donley County residents opposed courthouse restoration, the vast majority of voters agreed that the practical solution to persistent problems of an aging, dilapidated courthouse would be to restore the Jewel of the Plains to its former glory.
With obvious benefits to the county, city and local school system, courthouse restoration was a unifying project in Donley County. The City of Clarendon provided approximately $15,000 in Hotel Occupancy Tax funds and waved the building permit fees. The local economic development corporation also contributed funds. Although the school didn't support the project financially, students toured the building to learn more about the rich history of a structure with Col. Charles Goodnight's name on the cornerstone.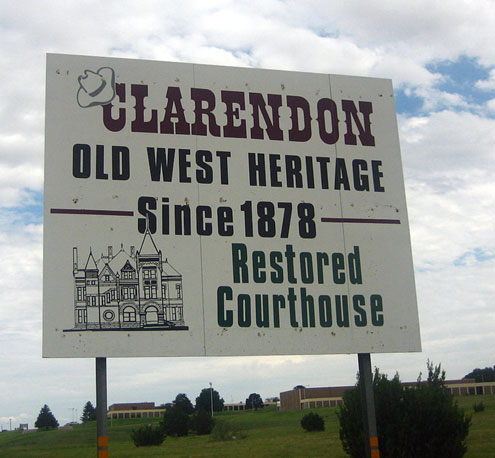 photo by Billy Hathorn
The "Jewel of the Plains" became a source of immense pride throughout Donley County, when only a few years earlier it had been a source of local health concerns because of bat infestation.
When restoration of the 1890 Donley County Courthouse was complete, many of the opposition admitted they had been on the wrong side of history.
"When we stood out front and watched workers take down the scaffolding, it was like watching a beautiful Christmas present being unwrapped," recalls Rhonda Aventi, Administrative Assistant to current Donley County Judge, John C. Howard, M.D.
During restoration, the contractor utilized local labor and made purchases from local businesses whenever possible.
After the historic courthouse was restored, Clarendon's 1887 depot was also restored, along with a 1946 theatre.
All this must have been a beautiful sight to a county judge who had often remarked, "I just don't see it any other way," when asked about courthouse restoration.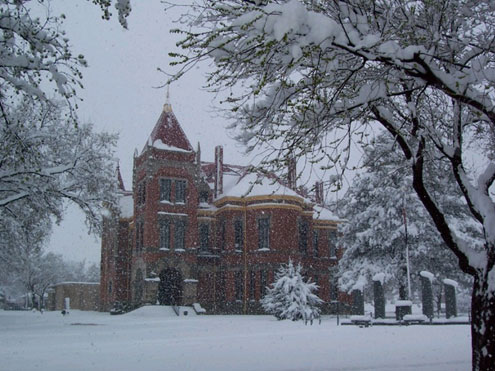 photo by Rhonda Aventi
And how did the "Jewel of the Plains" get that title?
That descriptive phrase came from Shirley Caldwell, a board member of the Texas Historical Commission from Albany, Texas who told Clarendon Enterprise publisher Roger Estlack at a preservation conference: "Oh! You will have the Jewel of the Plains when your courthouse is completed!"
"That phrase stuck, and we have referred to the courthouse as 'the Jewel of the Plains' ever since," Mr. Estlack says today.
Oh, and another notable phrase surfaced during restoration. It came from some interesting graffiti found in what must have been a holding room near the courtroom… "Quiet in the courtroom… the judge is eating beans."
Editor's note: North Texas e-News would like to express gratitude to the Clarendon Enterprise and publisher Roger Estlack for assistance compiling this article.