Entertainment
Memories of Lake Fannin
Mar 6, 2018
Fannin County, Texas -- Every resident of Fannin County shares a common bond with Lake Fannin. As is the case with Bonham State Park and the VA Center in Bonham, Lake Fannin is yet another vivid reminder of the lasting legacy of this county's favorite son, U.S. Speaker of the House Sam Rayburn.
For some county residents, the mention of Lake Fannin conjures up memories of dances, family reunions...maybe a first kiss.
But perhaps no one understands better than Gregory Hall just what was lost when Lake Fannin fell into disarray and why families should be excited that this scenic part of Fannin County may once again become a favorite weekend destination for families.
Mr. Hall was one of the first local volunteers to sign up this month to go back to work restoring Lake Fannin. He was also among the first visitors that frequented Lake Fannin in the summer of 1938, the year the popular recreational site opened. An old photograph summons powerful memories.
"I was two years old when my family first visited Lake Fannin on August 14, 1938, and I've often been told that this was the last Sunday my grandmother Maudie Gregory, aged 51, was with us alive," Maudie's grandson, Gregory Hall recalls. "The next Saturday she was dead. A black Kodak box camera recorded our family at locations around Lake Fannin that day."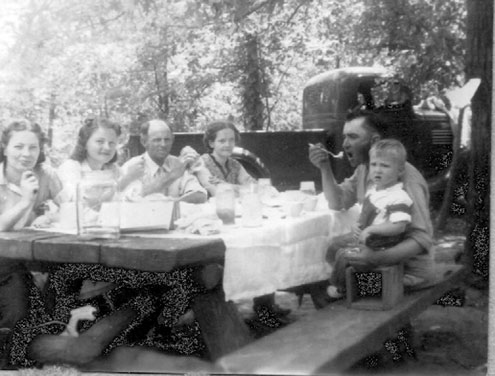 The Hall family enjoys a picnic at Lake Fannin during the summer of 1938, only days after the grand opening of the campsite. In this photograph, Maudie Gregory watches from across the picnic table as Clayton Hall takes a bite while holding his two-year-old son, Gregory Hall. The family treasures this outing, because it turned out to be the last time they would all be together.
For children, summer brings with it trips to the lake to go swimming, and that was certainly one of the most popular attractions in those early days of Lake Fannin.
"My first actual memory was of a birthday celebration at Lake Fannin on July 28, 1944, when I turned eight," says Gregory. "Doyle and Dwight Cain and twin cousins, Ned and Ted Hall, appear in the day's photo."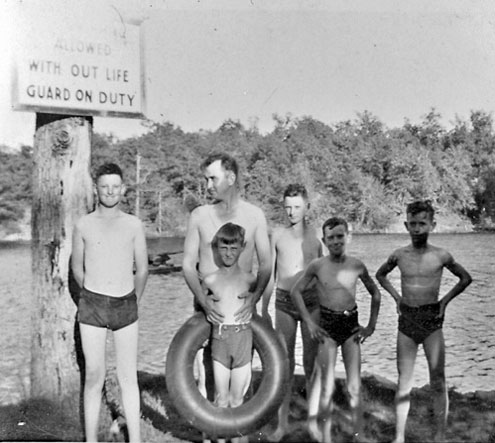 Gregory Hall's eighth birthday at Lake Fannin with Ned, Gregory's father Clayton holding Gregory, Ted, Dwight and Doyle. Of this group, only Gregory Hall remains.
As technology advanced, better images of family gatherings were documented.
"Then, in the 1950s, the entire Hall clan had annual reunions at Lake Fannin when colored slides were made. I was the photographer with an Argus C3," notes Gregory. "All the original Hall siblings are now gone. Young children then are grandparents now."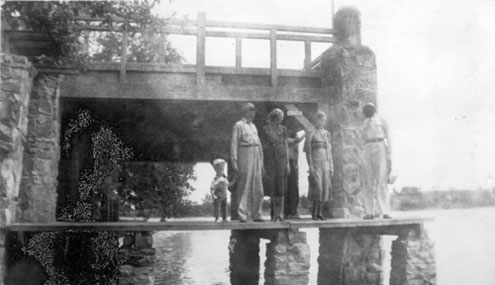 The Hall Family visits the boat house. "We didn't know..."
"We never used the Lodge or any of the cabins, only the picnic area, and from there after lunch we followed a narrow path down and across a wooded ravine to the swimming area," Gregory continues. "Elderly non-swimmers sat under the large oak trees between the Bath House and the 'beach.' I avoided a slippery concrete slide into the water, thinking it might go too fast, too deep. During our earliest visits we walked across the long wooden bridge to the east shore of the lake, but usually turned back because even then it was getting into a bad condition with boards missing. Still, it seemed exotic with a series of roofed way-stations along the length of the bridge. I am glad that photos still exist to show this. Because my mother never out-grew her grief over my grandmother's death, Lake Fannin has remained a sacred place."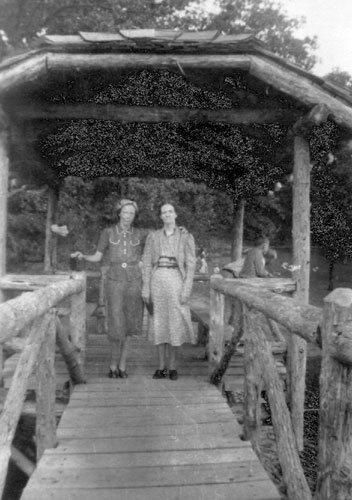 Gregory Hall's mother and grandmother pause on the bridge for a photograph.
While Gregory was working in London in 1968, word came from home that Doyle Cain had died against the north end of the bridge over Timber Creek.
The news brought back memories of trips to Lake Fannin with friends, and also of a favorite game of the boys at Mulberry school that Doyle excelled at.
"In those days at school (early 1940s), boys would beat down one side of two Carnation milk cans, hold them in their hands and 'run' on 'all fours'; the resulting prints in sandy soil would look like a horse's hoofs," explains Gregory. "When I received the unfortunate news, I thought of my eighth birthday swim at Lake Fannin, and that 'Doyle was the fastest horse by far' at the Mulberry school."
photos courtesy of Gregory Hall