Local News
BettySoo, Grace Pettis, Rebecca Loebe - The Sirens of South Austin - coming to Greenville April 6
Apr 6, 2018
Greenville -- Three of the Austin's top singer-songwriters, hailing from Texas, Alabama, and Georgia respectively, have been bewitching audiences with sumptuous harmonies and unforgettable songwriting.
BettySoo, Grace Pettis, Rebecca Loebe - The Sirens of South Austin - have been friends now for a decade after meeting at the legendary Kerrville Folk Festival, each winners of the annual "New Folk" award. Luscious harmony singers, effortless instrumentalists, seasoned touring artists – they recognized what each can accomplish individually could be made all the stronger by collaboration. Now, at work on their first recordings, the spark has been set, the fire lit. And their individual and collective fans are eating it up.
A video of "Fast Car" garnered 20,000 views on Facebook within days of posting. The harmonies are thrilling, with echoes of Emmylou Harris, Dolly Parton and Linda Ronstadt's Trio recordings. The songs are powerful and spare. The stage presence confident and assured. Get ready to be swept away; these Sirens are proving irresistible.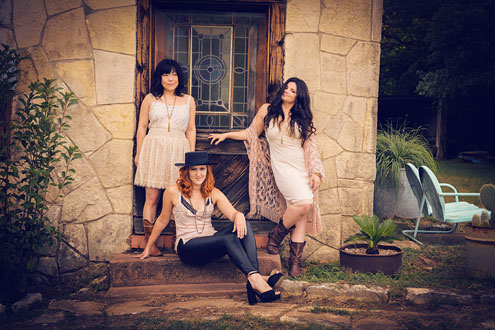 photo by Nicola Gell
Currently on tour throughout the Northeast and South from March through May, these ladies will be at The Texan Theater in Greenville, Texas on Friday, April 6, sharing songs from their individual solo albums to go along with a few special covers, as well as Sirens originals.
SIRENS OF SOUTH AUSTIN
Friday, April 6
@
The Texan Theater
2712 Lee St., Greenville, TX 75401
Showtime: 7:00 p.m. Tickets $100
Ticket includes Table|4 Course Dinner|Gratuity
903-259-6360 texantheatergreenville.com