Lifestyles
Will Lacy advances to Eagle Scout
Mar 15, 2018
Bonham -- Sunday, February 25 was another proud day for Boy Scout Troop 52 of Bonham as Will Lacy received Eagle Scout during his Eagle Scout Court of Honor held at the First Presbyterian Church. Will is the son of Rory Lacy of Bonham and Brad Lacy of Savoy. His grandparents are Mayor Roy and Lynda Floyd of Bonham, and Leon and Emily Lacy of Blanchard, Oklahoma. Will is a senior at Bonham High School and is planning to attend Oklahoma State University in the fall to study architecture.
Will Lacy, surrounded by a few of his friends and family
The pathway to Eagle can be described as a steep trail leading up to three peaks, the highest being that of Eagle Scout. Officially, the trail starts with the Scout rank and continues through Second and First Class ranks. Then, the mountain climbing begins. The path is marked with merit badges, leadership responsibilities, service projects, and the practice of Scouting skills and ideals. The first peak reached is that of Star Scout, the second is Life Scout, and, finally, Eagle Scout.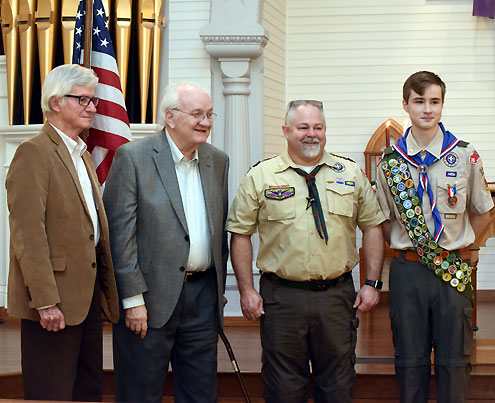 Four generations of Scoutmasters/Eagle Scouts: (L-R) Gene Danner, Mike Smith, Sean Floyd and Will Lacy. Gene was Mike's Scoutmaster, Mike was Sean's Scoutmaster, and Sean was Will's Scoutmaster.
Only around 2% locally and 4% nationally achieve the rank of Eagle Scout. One of the requirements of earning the rank is organizing and conducting a service project. Willís service project included cleaning up areas and building and installing additional seating by the guest pavilion at Willow Wild Cemetery in Bonham.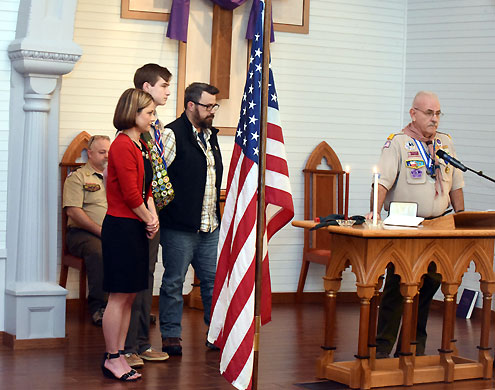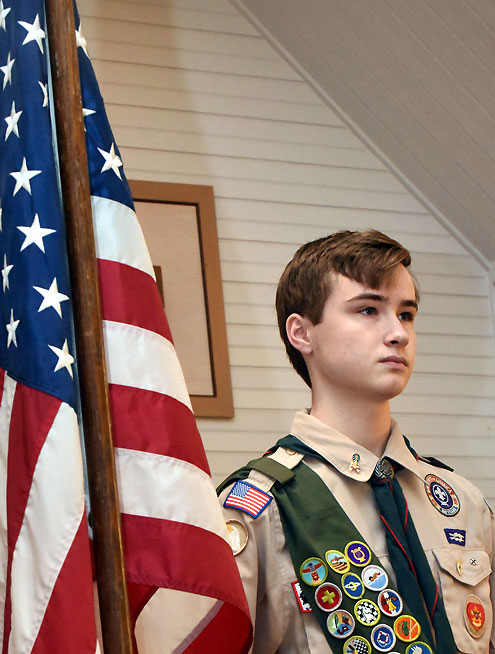 photos by Allen Rich