Columnists
Off the beaten path
Mar 3, 2018
Matador, Texas -- One sleepless night, I felt that I should write about one the more interesting travel experiences that my wife and I have had. As we have matured, we find ourselves not wanting to go where everyone else is going. My wife asks to see something besides corporate America on our travels, so that is what we try to do.
On one particular trip coming back from New Mexico, I was given the task of finding lodging for us and another couple we travel with regularly. I did my due diligence, and after a long search, came up with a lodging choice of The Hotel Matador. This bed and breakfast (one of the best breakfasts I have ever had…) is in the town Matador, TX… population of 589. When discussing my choice, I am not sure that my travel companions were supportive of my choice, but they were good sports about it.
photo by Ken Young
We arrived at Hotel Matador in the late afternoon, and got settled into our very nice rooms. We asked about dinner possibilities, there was one, The Main Street Café. We were given directions, walk north about 100 yards. And so begins the reason for this story.
As we entered The Main Street Café we saw a rustic, but well-kept café. There was an older couple in charge. The husband was the cook and the wife was the waitress. We could tell she was not moving very well and offered to help with our service. She said oh no of course, but that didn't slow us down. We had been in the car most of the day and had plenty of energy. The four of us took on different duties, getting drinks, putting ice in a tub, and my wife served the other patrons their dinner.

We chatted with one of the patrons, but there was a young man at a table close to us that could not take his eyes off his phone. My wife served him his dinner, and he thanked her. Our dinner came, so we sat down and started to eat.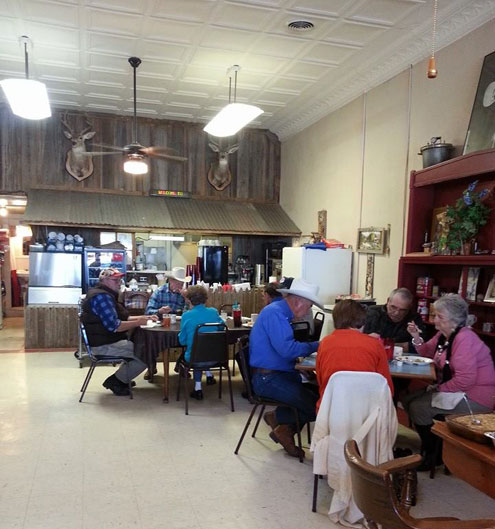 After dinner we were just kind of visiting, and the young man came over to us. He said how nice it was to see us help the couple. He commented that in this day and age most people would have turned around and left because of the lack of speed of the service. He thanked us.
He went to the counter and paid his bill and left. After he walked out the front door, the waitress/owner said, "that young man didn't want me to say anything, until he left, but he paid for your dinner." I got up, went out the door, and caught his eye and nodded. He returned the nod and that was all it took.
With all of the wrong things going on in our country, it is not that hard to do something nice or just the right thing. Just say thank you to someone, help someone out, treat people as the human being you wish to be treated as.
I hope I didn't bore you, but I felt like I needed to tell this story.
Jarrett Tucker
https://www.facebook.com/Matador-Main-Street-Cafe-198762546848049/