Local News
Alert officer IDs missing person
Mar 2, 2018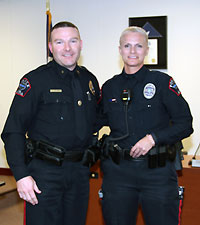 Anna, Texas – At a recent meeting of the Anna City Council, Interim Police Chief Jeff Caponera presented a Chief's Coin to Officer Anjanette Osborne in recognition of actions that may have been life-saving. While getting ready to stop a motorist for a routine traffic violation along US Hwy 75 near midnight recently, Officer Osborne noticed another vehicle, a pick-up truck, being driven in an erratic manner.

Suspecting that the driver of the pick-up was under the influence of alcohol or other intoxicant, she turned her attention to that vehicle and made the stop. The driver, it turns out, had not been drinking. In fact, the individual had not consumed food or water since leaving his home in Denton at 6:00 a.m.

The driver was suffering from symptoms of the flu and had been reported missing. The Denton Police Department had issued a BOLO (be on the lookout) for the individual, prompting Officer Osborne to contact Denton PD after the stop.

Disoriented and unable to think clearly and with a discharged battery in his mobile phone, the individual was unable to assist himself. Officer Osborne's actions proved life-saving, not only for the driver, but also potentially for other motorists or pedestrians.

Officer Osborne was honored with a standing ovation from the Anna City Council and members of the audience after the presentation.