School News
Savoy High School One-Act Play troupe performs at Grayson College
Mar 5, 2018
The Savoy High School One-Act Play performed at the district competition on February 26 at Grayson College. The troupe performed the play I Never Saw Another Butterfly. The group is one of three plays that advanced to the bi-district competition at NCTC in Gainesville on March 24.
The following performers and crew were awarded superlatives; Bernadette Rivera- Best Actress, Justin Williams- All Star Cast, Trynton Burgess and Elise Popowski- Honorable Mention All Star Cast, Makayla Caloway- Tech award.
Congratulations to these students and directors Mrs. April Burgess and Mrs. Kristi Tallon for outstanding achievement!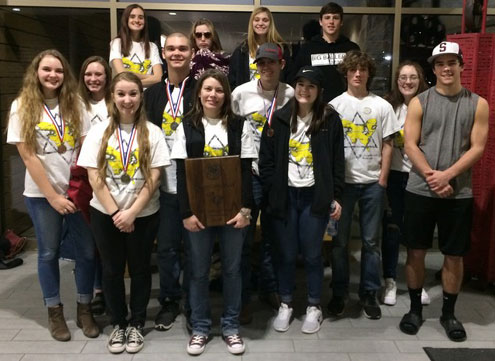 Row 1 - Bernadette Rivera, Mrs April Burgess, Madelyn Merritt, Partick McCauley
Row 2 - Elise Popowski, Justin Williams, Trynton Burgess, Colby Burgess, and Landry Neal
Row 3 - Haylee Wheeler, Makayla Caloway, Tori Overby, and Ben Reed
GO CARDINALS GO!