Obituaries
Pauline Berry
Mar 3, 2018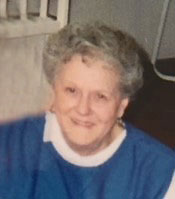 Bonham, Texas -- A memorial service for Pauline Berry, 85, of Dallas, Texas will be held on Wednesday, March 7, 2018 at 2:00 p.m. at Wise Funeral Home Chapel in Bonham, Texas. Officiating will be Rev. Mike Burt. Pauline passed away on February 28, 2018. She was born December 5, 1932 in Telephone, Texas to Homer Lee McElroy and Vera Mae Shortnacy McElroy.

Pauline enjoyed stitching plastic canvas, collecting antiques, pictures and other memorabilia, going out to eat, going to the movies and eating popcorn, shopping for anything and everything, looking at Christmas lights, and playing or reading on her Kindle. She especially enjoyed James Patterson books. She loved children and babies.

Pauline was preceded in death by her husband James Russel Berry, and parents, Homer Lee McElroy & Vera Mae McElroy.

Surviving are daughter, Vickie Darline Berry of Dallas, Texas; son, James Ray Berry of Irving, Texas; 3 grandchildren, Christopher Lee Berry of Dallas, Texas, Tiffany Elaine Teague of Lantana, Texas and Jacob Ryan Berry of Flower Mound, Texas; 2 great-grandchildren, Aeris Marie Berry and Kairi Rene Berry; sister, Loise Irene Walker; 2 brothers, Henry Lee McElroy and Albert Gene McElroy.

An online guestbook is available at www.wisefuneralhome.com.