Obituaries
Charles 'Big Pa' VanHooser
Mar 4, 2018
Bonham, Texas -- Funeral services for Charles "Big Pa" VanHooser, 76, of Talco, Texas will be held on Thursday, March 8, 2018 at 1:00 p.m. at Wise Funeral Home Chapel in Bonham, Texas. Officiating will be Bro. Mark Posey. Interment will follow at Sandy Cemetery in Ravenna, Texas. Charles passed away on March 3, 2018. He was born May 27, 1941 in Bonham, Texas to William Oscar VanHooser and Sarah O. McAlister VanHooser.
Charles married Beatrice Louise Whitney on November 04, 1960 in Paris, TX. He grew up playing with all of his brothers and sisters. He really enjoyed fishing, including running trotlines, hunting, going to the movies, dancing with Bea and watching Westerns on TV. He took great pride in taking care of his cattle. He instilled a strong work ethic in his kids and grandkids. He had a nickname for everyone he knew. Charles could fix anything. He loved to teach his grandkids how to talk and would sing to them. He loved the holidays and all the family fellowship that came with that. He really liked his sweets, especially Litte Debbies. One of his most prized possessions were his dogs, Boozy and Obama. His most treasured activity was spending time with his family, especially his grandchildren and great-grandchildren.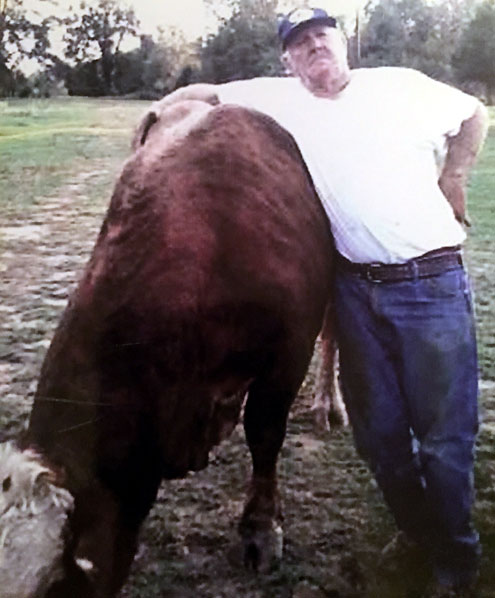 Big Pa was preceded in death by his parents, William Oscar VanHooser & Sarah VanHooser; son, Stanley Wayne VanHooser; sisters, Eula Grace Walls, Tina (Tinee) Florence, Delores Dryden, Freda Goar, Veta Wilson; brothers, William Eldon VanHooser, Harley Lee VanHooser.
Surviving are his wife of 57 years, Bea Louise VanHooser; 1 daughter, Peggy Ann Taylor and husband Kenneth of Mt. Pleasant, TX; 2 sons, Johnny Delane VanHooser of Talco, TX and Travis Gene VanHooser and wife Juanita of Talco, TX; 8 grandchildren, Heidi Crews, Justin VanHooser and Lorrye Speight, Jake VanHooser, Jasmine Perry, Natasha Taylor, Mark VanHooser, Nikki VanHooser and Kayla VanHooser; 9 great-grandchildren, Joey Crews, A.J. Crews, Mia Rodarte, Cloey Johnson, Bentley VanHooser, Jedediah VanHooser, Charles Delane Johnson, Aubrey Joi McQuagge and Kenley Faith VanHooser; 2 great-great grandchildren, Copper Crews and Rayleigh Crews; 1 brother, Lyndel VanHooser of Wolfe City, TX.; Several nieces, nephews and a host of friends.
Pallbearers will be Dennis Dryden, Dustin Dryden, Kevin Strawbridge, C.W. VanHooser, Justin VanHooser, Mark VanHooser, Nikki VanHooser, Travis VanHooser.
The family will receive friends at 11:00 a.m. until service time on Thursday, March 8, 2018 at Wise Funeral Home Chapel.
An online guestbook is available at www.wisefuneralhome.com.