Farm and Ranch
North Texas Improvement Bull Sale March 10 in Bonham
Mar 9, 2018
**Reason #1 to attend the North Texas Improvement Bull Sale**
The quality of bulls and cow/calf pairs that are in this sale are incredible! You will have to drive several miles to be able to find a collective group of bulls that are capable of taking your program to the next level!
Whether you are in the market for Angus, Red Angus, Hereford, Brangus, or SimAngus, any of the bulls that will be available for your consideration will definitely take that progressive step for your operation.
Also, donít forget about the 40 head of angus and black Baldie pairs that will be available as well!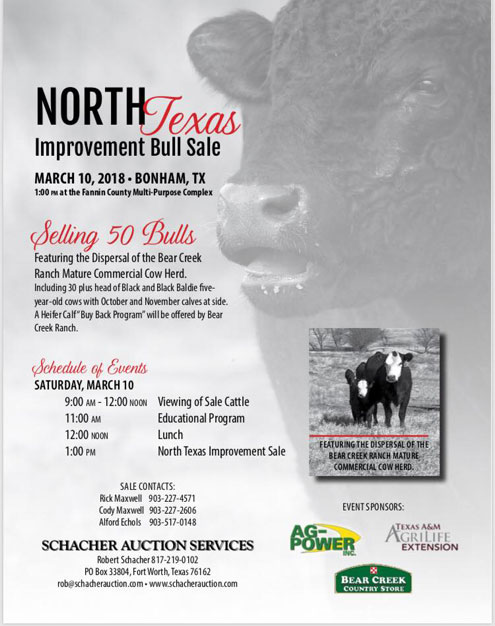 Information on the sale is listed below!
**Bulls included in the sale**
Angus
Red Angus
Hereford
Polled Hereford
Brandiís
SimAngus
**Also Selling**
40 head of Angus and Baldie pairs.
These will be sold in lots of 5 head.
All cows have calves that are 3-4 months old sired by Angus bulls.
Cows will be exposed 30 days to Angus Bulls.