School News
Students learn leadership and more at Texas FFA Day at the State Capitol!
Mar 6, 2018
Pottsboro, Texas – Pottsboro FFA attended the ninth annual Agricultural Education and Texas FFA Day at the Capitol hosted by the Texas FFA Association and the Vocational Agriculture Teachers Association of Texas (VATAT). The event was held February 20 and 22, 2018 in Austin, Texas.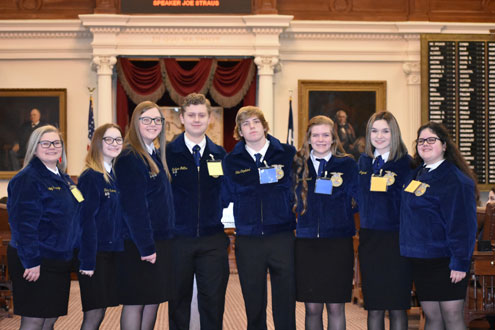 (L-R) Hailey Pennington, Harley Ramsey, Caitlyn Smith, Tucker Gattis, Cole Copeland, Emma Copeland, Chalie Trojacek, Hannah Hix
Pottsboro FFA was one of more than 800 FFA members who participated in the event in order to learn more about the legislative process, specifically addressing agriculture and agricultural education.
Student participants also learned about leadership, civic engagement and empowerment as they toured the capitol, met state legislators and took part in interactive workshops.
Texas FFA has evolved from an organization focusing primarily on production agriculture, to a broader-based organization that addresses the needs and interests of students. FFA gives students the opportunity to apply practical classroom knowledge to real world experiences through ongoing enrichment opportunities, as well as local, state, and national competitions.
Today, the Texas FFA is the nation's largest state FFA association with more than 120,000 members. The organization continues to help the next generation rise to meet challenges by helping members develop their own unique talents and explore their interests in a broad range of career pathways. We are still the Future Farmers of America. But we are also the Future Biologists, Future Chemists, Future Veterinarians, Future Engineers and Future Entrepreneurs of America.