Local News
Anna paramedic plays Christmas stork
Mar 6, 2018
Anna -- Anna Fire Chief Tim Gothard pins a special award on the uniform of firefighter/paramedic Nick Meyer at a recent Anna City Council meeting.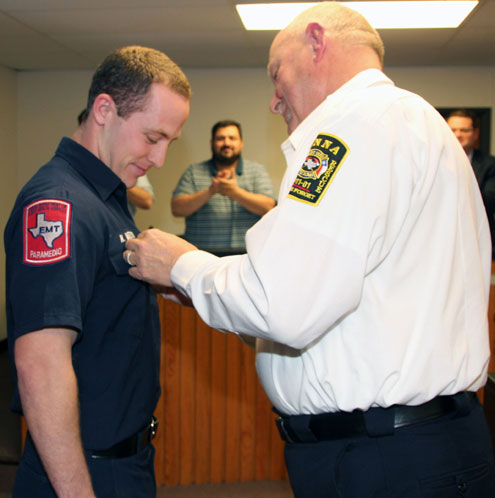 Meyer, a two-and-a-half-year member of the Anna Fire Department, was on the crew that answered a dispatch call last Dec. 23 for a female in labor.
While on the way to Medical Center of McKinney, the patient began to experience frequent and rapid contractions, indicating a birth was imminent. The close-to-Christmas baby did indeed make an appearance inside the EMS unit. Meyer assisted in the delivery of a healthy girl, five weeks before her scheduled birth.
Upon arrival at the hospital, medical personnel declared both the mother and child in good health, to the relief of the EMS crew.
Chief Gothard said this was the first in-transit birth attributed to the Anna Fire Department he was aware of, and awarded Meyer the department's first Baby Delivery Award, a pendant with a stork holding a diaper in its beak carrying a baby.
ABOUT ANNA – The City of Anna is a fast-growing community located in northern Collin County. Anna's population is approximately 13,000 residents occupying over 4,000 households. This emerging and vibrant city offers its residents an excellent quality of life and low cost of living. With much of the City's land still undeveloped, and the population expanding annually, the community is becoming an attractive location for retail and commercial establishments. The City's ready workforce is skilled, well-educated, and comparatively young. Residents enjoy recreational opportunities, parks, trails, open spaces, easy access to the DFW and Red River corridors, and a pace of living that matches both a relaxed hometown and an emergent community.