Obituaries
Evelyn Verita Whirley Anderson Burtram
Mar 5, 2018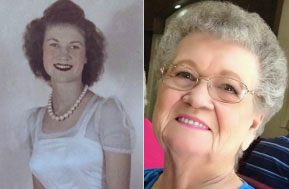 Bonham, Texas -- Memorial services for Evelyn Verita Whirley Anderson Burtram, 88, of Bonham, Texas will be at 10:30 a.m. on Friday, March 9, 2018 at Cooper-Sorrells Funeral Home Chapel, Bonham, Texas. Minister Nolan Butler will officiate the service. Evelyn passed away on Friday, March 2, 2018 at Seven Oaks Rehab.

Our Mama was a woman of strong Christian faith, compassionate, loving, sharing, hard-working, caring, our rock, our friend whenever we needed help and a strong hand in our lives as we grew into women. She always was our guide through troubled times and continued until her health begin to decline two years ago. We were all so blessed to have her for many, many years and she leaves her legacy with us. We will always have her in our hearts and words can never express the love that her children, grandchildren and great grandchildren had for this great woman.

Evelyn worked in the cotton fields beside our Daddy, worked at Bonham Manufacturing and then started to work at Texas Instruments in 1965 and retired after 25 years of service.

Evelyn was born February 3, 1930 in Honey Grove to the late John Elbert Whirley and Mary Elizabeth Butler Whirley. She graduated from Windom High School in 1947 of which she was a top notch basketball player along with being selected as Most Athletic her senior year, Editor-In-Chief of the high school annual and selected as Queen of High School.

On November 2, 1948, she married Clyde Preston Anderson. They lived in Windom until 1967 when they moved the family to Bonham. Clyde died on May 26, 1991 and Evelyn later married William Doyle Burtram in Ovila in 1999. She was a faithful member of the Northside Church of Christ in Bonham.

Evelyn is survived by daughter, Sherry Elizabeth Howard and husband Larry Howard of Tom Bean; daughter, Terry Denise Wynne and husband Ted Wynne of Glenpool, Oklahoma; brother, Carl Whirley and wife Jean of Ovila; five grandchildren, two great-grandchildren, many cousins, and many friends. She was preceded in death by her parents; husband, Clyde Preston Anderson; son, Jerry Preston Anderson; husband, William Doyle Burtram; brother, J.E. Whirley and sister, Frances Vaughan.

No formal visitation will be held; however, to convey condolences you may come by to sign the registry or to sign online registry, please visit www.coopersorrells.com.