Local News
TMC to celebrate the opening of its expanded Emergency Department March 8
Mar 8, 2018
Denison -- Texoma Medical Center invites the public to attend a ribbon cutting to celebrate the grand opening of its expanded Emergency Department (ED) on Thursday, March 8 at 11:00 a.m. The long awaited ED expansion is the first phase of TMC's new $50 million, 110,000 square-foot, four-story patient tower to open.
The emergency department expansion has doubled the size of the previous department, allowing for sufficient space to increase from 24 beds to 48 beds. The new ED includes psychiatric treatment rooms, trauma rooms, and a dedicated Fast-Track for prompt treatment of minor injuries and ailments that need immediate attention.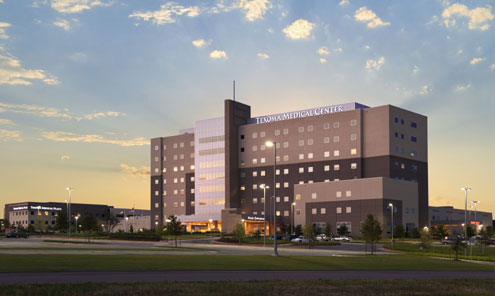 The parking area adjacent to the Emergency Department has also been expanded and includes additional landscaping. The second and third floors of the new tower will be open by May 1.
As a designated Level III Trauma Center, TMC is staffed 24/7 by board certified, trauma trained physicians capable of handling major and minor medical emergencies including trauma, heart attack, and stroke.
Texoma Medical Center will begin accepting emergency patients in the new Emergency Department, starting at 7 a.m. on Friday, March 9. For more information, visit online at www.texomamedicalcenter.net.