Obituaries
Dennis Wayne Jones
Mar 6, 2018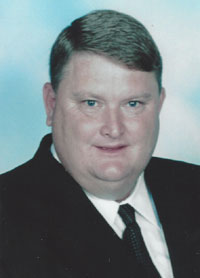 Leonard, Texas -- A memorial service for Dennis Wayne Jones, 61, of Leonard is scheduled for 10:00 a.m. Saturday, March 10, 2018 at Grove Hill Methodist Church. Rev. Jim McIntire will officiate. An informal visitation will immediately follow the memorial service at Grove Hill Methodist Church.

Dennis was born March 6, 1956 at Sherman. His parents were Edgar Wayne Jones and Sue Evelyn Vandagriff Lieber. He married Lisa Jo Carruth September 11, 1982 in the Methodist Church at Trenton.

Dennis was a graduate of Leonard High School, the class of 1974. He was voted Most Friendly and was well known for his antics in the Falcoon.
Dennis retired from Weir's Furniture to open his own business, Circle J Furniture Repair. He retired not too long after that to become Poppa to Gemma, Grady and Gage. His favorite pastime became riding his motorcycle. He finally got his dream Goldwing and traveled nearly every road from Leonard to the border and to Arkansas, Colorado and the Dakotas.

The most important things to know about him were expressed in his own words to his best friend: "One day you will tell my children that I died living life to the fullest, admiring my children, hopelessly in love with my wife and afraid of God...and if my wife finds another man, I will rise again."

Dennis passed away Sunday, March 4, 2018.

Dennis is survived by his wife: Lisa Jo Jones of Leonard; his father-in-law: Bill "Daddy Bill" Carruth of Dallas; his daughters and sons-in-law: Amy and Kris Neville of Trenton and Jessica and Kenneth Fuller of Leonard; his daughter: Melody Medders of Denton; his grandchildren: Gemma Neville and Gage Neville, both of Trenton and Grady Fuller of Leonard.

In addition to his parents, Dennis was preceded in death by his step-mother, Judy Jones.

Turrentine-Jackson-Morrow Funeral Home of Leonard is in charge of arrangements. An online registry may be signed at www.tjmfuneral.com.