Front Page
Letters from home
Mar 13, 2018
Fannin County, Texas -- Among the approximately 12,000 members of the U.S. military serving in Afghanistan is a Fannin County native who has become a "guardian angel" to family and friends who are waiting to hear from the young soldier.
One of seven children born to Issac and Sophia Salazar of Bonham, Luis graduated from Ector High School with hopes of serving his country as a Marine.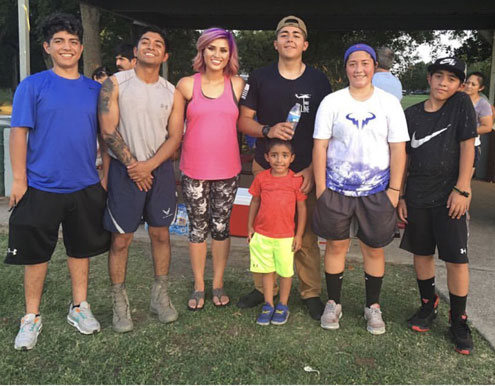 (L-R) Junior Salazar, Juan Salazar, Ana Hernandez, Luis Salazar, Mari Salazar, Gustavo Salazar and in the front middle is Gael Salazar.
Luis's brother, Juan, enlisted in the Air Force after graduating from Bonham High School and a close friend, Avery Kraft joined the Army.
When Luis found out that a technicality about his familia (family) tattoo would end his plans to sign up with the Marines, he enlisted in the Army, instead. The Salazar family believes the Marines' loss is the Army's gain.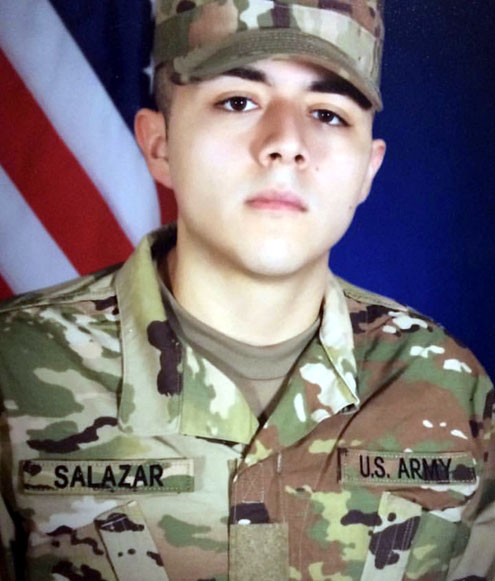 Luis Salazar
Communication was easy when Luis was in Kuwait, but an anxious family is waiting to hear from Luis now that he is in Afghanistan.
"We will communicate by letters," says girlfriend, Brooklynn Ward, "and whenever he is able, he can pay for internet and on occasion we will be able to Facetime, use social media and possibly send a text here and there. My main source will probably be letters and care packages that we are able to send him."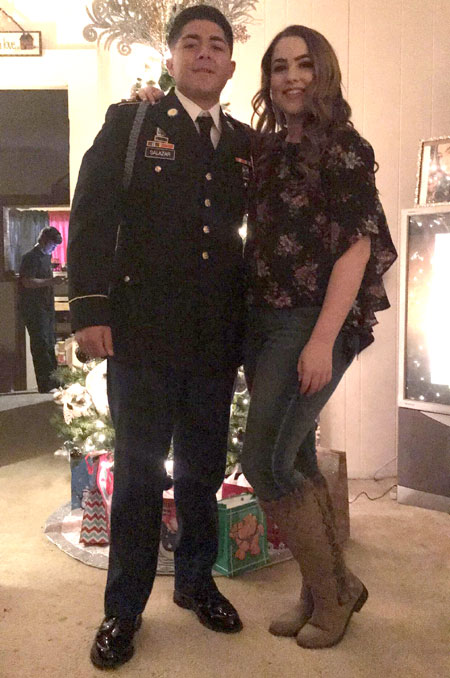 Luis and Brooklyn
Luis is an infantryman whose assignment is to train the Afghan army to fight ISIS.
"I am beyond proud of him for being there and for his accomplishments in his life," says Brooklynn. "He is 20 years old, brave and the best person I know. Luis, everyone is waiting here in Texas for your safe return home."
Deployment is estimated to last anywhere between six months and 15 months and, while this young soldier is busy settling into the routine of his first overseas tour of duty, family and friends would like to send these letters from home to their "guardian angel."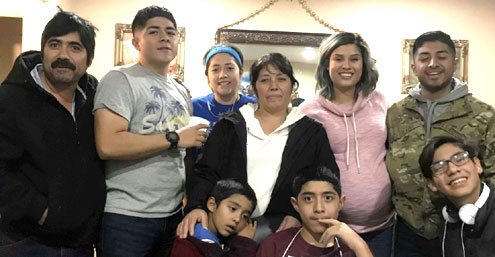 The Salazar family
From sister Ana~ I don't want to say that Luis is my favorite when it comes to my siblings but lets be real...even as a small child he was always caring and worried about others. If I was sad he always be the one to concern himself with my well being. He never wanted to bother anyone with any issues he was having and even until now he is still the same. When we were kids it actually got all of us in trouble because he called 911 because his foot was hurting! Why he didn't tell anyone of us is beyond me! He's probably going to say I'm telling on him if ever reads this but I swear its all out of love! Love you, Ana
Brother Juan~ So live your life that the fear of death can never enter your heart. Trouble no one about their religion; respect others in their view, and demand that they respect yours. Seek to make your life long and its purpose to serve your people.
Mother Sophia~ I am very proud of my son but at the same time my heart is crying because he isn't here with me. But I trust God will guide him and bring him back to me safely. I love you with all of my heart. I pray the Lord watches over you no matter where you are.
Brother Junior~ Growing up with you wasn't a choice but learning from you was a privilege and our close realtionship growing up was one of my most valued blessings.
Sister Mari~ The most important concept of life is to live it to the fullest with the people you love the most. Time will fly by as you know it and I will soon have my twin sibling. I love you Luis and stay safe. HOORAH!
Brother Gustavo~ Well, I can say me and my brother have been through it and I know you will come back safe and I love you.
Brother Gael~ Come home, Luis!
Aunt Gracie~ Luis you are very special person, you were born a star with a good heart. A hero. I pray the good Lord watches over you and we will be waiting for you with open arms. I love you!
Cousins Omar and Nathanel~ Hi Luis, we love you and miss you. We have lots of mixed emotions about you gone. We miss and love you and cannot wait for you to come home and see you again!
Friend Felipe Yanez~ I would like to say you are one of my greatest friends and like a brother to me. We have grown up together and I am very proud to call him my friend, more like a brother and I pray for him to get home safe. And I want to thank you Luis for your service and everything that you have ever done for me because I wouldn't be the man I am today without your help. Thanks brother!
Ward family~ We want to thank you for your service and come home safe! Prayers are with you.
Brooklynn~ Come home safely, until then I send you all of my love and all of my thanks. I love you very much.