Local News
Bonham City Council approves zoning change for retirement village
Mar 14, 2018
Bonham -- Plans are in the works for a retirement village located just to the north of Woodmoore Assisted Living Community in northwest Bonham.
In a regular meeting Monday evening, Bonham City Council unanimously approved a zoning change from Single Family Dwelling to Multifamily Dwelling for the property located at North Village and Saw Grass Court.
That decision allows plans to proceed for the proposed Woodmoore Village, described as a senior independent living retirement community, comprised of single-family, single-story units under the same management as Woodmoore Assisted Living Community.
"It will compliment Woodmoore Assisted Living Community," stated Russell Armstrong, managing partner of Armstrong, Draughn & Cooper, Ltd. which owns The Woodmoore and will be developing Woodmoore Village.
Residents leasing units in Woodmoore Village will have the option of receiving one or two meals per day in The Woodmoore, participating in Woodmoore activities, selecting weekly or monthly housekeeping services, and an emergency call button.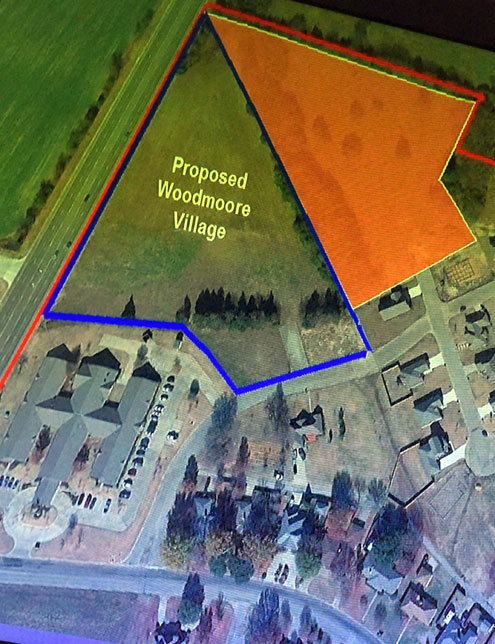 Plans call for Woodmoore Village to have private street access north of Woodmoore Assisted Living Community, as well as off of Hwy 121 North and the owners have committed to installing a drain system, which should result in less stormwater runoff than if the area had been developed as single-family housing.
Several members of the community addressed Bonham City Council during the public forum segment of the regular meeting.
Scott Miller invited the mayor and councilmembers to attend an upcoming celebration of Okay to Say, which is designed to increase public awareness about how mental health affects all of us and help people voice the challenges they face when they seek help for this treatable disease.
In Fannin County, OK to Say is set for 9:00 a.m. March 29 at the Bonham ISD Board Room, located at 1005 Chestnut in Bonham.
Michael Evans voiced his support for increasing the salaries of local firefighters and policemen.
Mary-k Wilson thanked the City of Bonham for repairing a sidewalk on the north side of Bonham City Hall.
Katricia Turner addressed city council in regards to a possibly dangerous situation being caused by drivers going too fast on East 15th Street.
"My concern is the children in the neighborhood," Ms. Turner remarked. "I don't know what the answer is, but we need to slow down the traffic on 15th Street."
Bonham City Council received the February 2018 Financial Report from Dave Struchtemeyer, CPA, Director of Finance for the City of Bonham.
"This month we made $1.3 million in bond payments, reducing City of Bonham bond debt by $1.2 million," Mr. Struchtemeyer reported. "Ad valorem receipts through the month of February are almost 90% collected for the year. Sales tax collections for the month of March are 8% higher than collections made in March of last year. Cumulative for the fiscal year through March, collections are 4.5% higher than sales tax collected through March of last year."
In other business, Bonham City Council approved:
-- the Jones Field Airport Master Plan
-- adopting a rate schedule "RRM-Rate Review Mechanism for Atmos Energy Corporation
-- a Special Use permit allowing the property at 125 East 5th Street to use the second floor as living quarters
-- a Special Use Permit allowing the property at Seven Oaks Rd (property ID 77363) to change from SUP Duplex to a Triplex, and 802 E 15th from Single Family to Multi-Family Triplex.