Front Page
Fannin County Commissioners Court proclaims March 29 to be 'Okay to Say Fannin County Day'
Mar 15, 2018
Fannin County, Texas -- During a regular meeting of Fannin County Commissioners Court held Tuesday, March 13, 2018, commissioners unanimously approved an official proclamation that declares March 29, 2018 to be "Okay to Say Fannin County Day."
According to its website, Okay to Say™ is a new Texas-based movement initiated by the Meadows Mental Health Policy Institute (www.TexasStateOfMind.com) to increase public awareness about mental health issues and services in Texas, and eliminate discrimination and stereotypes surrounding this treatable disease.
Scott Miller addressed Fannin County Commissioners Court and invited them to attend an upcoming celebration of Okay to Say set for 9:00 a.m. March 29 at the Bonham ISD board room, located at 1005 Chestnut in Bonham.
"This program connects people with services and removes the stigma associated with asking for help," Mr. Miller explained.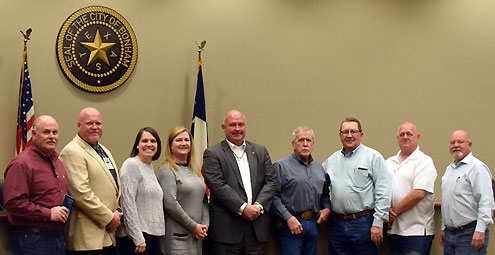 (L-R) Scott Miller, McCraw Oil; Harry Leming, Texoma Medical Center and a member of the Texoma Behavioral Health Leadership Team; Sandy Barber, Fannin County Children's Center; Cindy Bankston, Glaser Family Charitable Foundation; Spanky Carter, Fannin County Judge; Gary Whitlock, Fannin County Pct. 1 Commissioner; Jerry Magness, Fannin County Pct. 3 Commissioner; Stan Barker, Fannin County Pct. 2 Commissioner; Dean Lackey, Fannin County Pct. 4 Commissioner
*****
The regular meeting opened with a thoughtful invocation by Fannin County Treasurer David Woodson and all five members of the county commission were present.
*****
In public forum, Paul Ivy expressed his appreciation to Fannin County Pct. 2 Commissioner Stan Barker for promptly repairing a culvert.
*****
Commissioners approved minutes, with corrections, from previous meetings March 6 and March 7.
*****
Fannin County Commissioners Court approved an easement that will allow Southwest Fannin SUD (Special Utility District) to extend a waterline on county right-of-way for approximately 4,000 feet on County Road 4040 in Pct. 1.
*****
Commissioners approved a budget amendment for Fannin County Environmental Development in the amount of $921.95, for Flood Plain Training Class, with the money to come out of contingency. Fannin County Judge Spanky Carter suggested that county employee Lita Huffman attend the class. In light of pending construction of Lower Bois d'Arc Creek Reservoir, Judge Carter also recommended that commissioners consider adding an employee in the months ahead with this sole responsibility.
*****
Fannin County Treasurer David Woodson recommended that the county transfer $1 million from the band to Texpool General Fund at an interest rate of approximately 1.4490%. Fannin County Commissioners Court approved the transfer. Commissioners also approved the county treasurer's monthly report.
*****
Commissioners approve the solicitation of bids for the annual contract for Janitorial Supplies for the county, and the county commission also approved the surplus of Sheriff Office vehicles and miscellaneous seized items to sale on Rene Bates Auctioneers online auction.
*****
The final segment of each regular meeting of Fannin County Commissioners Court is reserved for comments by commissioners and the county judge.
Fannin County Pct. 1 Commissioner Gary Whitlock reminded residents that illegal dumping is still a problem and continues to impact county resources.
Fannin County Pct. 3 Commissioner Jerry Magness echoed Commissioner Whitlock's sentiments and Commissioner Magness added that "mud buggies" are damaging county property by digging ruts in ditches and roadsides.
Fannin County Judge Spanky Carter said that the process for scoring bids for demolition of the courthouse will occur later in the morning on March 13, 2018, followed by a meeting between county officials, Architexas and Texas Historical Commission.
"Things are really moving along well," Judge Carter noted. "We are well ahead of schedule and under budget."
Carter reiterated that the target date remains November 2020, although he hopes the $17 million project will be completed during the summer of 2020.
"With the results of the election last week, I'd like the commissioners to guide me with what they'd like to do," Carter remarked. "We have discussed constructing two buildings. The only problem is the amount of money for a justice center. We will need to decide who goes back into the restored courthouse and then start a building to house other county employees, with the exception of the judicial system. I don't want to do anything the public doesn't want to do. North Texas Municipal Water District had committed to paying the county $1 million ($100,000 annually for 10 years) and we collected $650,000 from the hospital authority. With that $1.6 million, we can put everyone in a new building without putting it on the backs of taxpayers."
Carter reflected on his seven+ years in office and promised full support to his successor.
"I appreciate getting to be county judge for seven years," Carter stated, "and I have told Mr. Moore that I will help him any way I can. I will do anything in my power to make him successful, if that's what he wants from me. I would hope that I can be of some help to Mr. Moore during the transition."
Carter closed with the underlying philosophy that has guided his decisions during eight years in office.
"It is so easy in this county to see so many people who are impoverished. I'm more concerned about the families making $25,000 a year than the families making $250,000 a year," Carter said. "I worry about folks in the county who don't have shelter or enough to eat. For the next nine months, I want to help Fannin County. Maybe we can build better relationships."