Local News
Door-to-door sales and solicitors
Apr 10, 2018
QUESTION: Do individuals have the right to go door to door selling products or soliciting services?
ANSWER: Yes they do.
In 1931 the City of Green River, Wyoming passed an Ordinance prohibiting folks from selling or soliciting door to door. The Fuller Brush Company appealed the Ordinance and the United States Supreme Court ruled that people Do have the right to go door to door. Thus the ruling became known at the Green River Ordinance.
While Cities may not be able to prevent sellers or solicitors from going door to door, the ruling did give Cities and other governmental entities authority to regulate and establish standards and rules to the door to door practice.
On February 12, 2001, the Bonham City Council passed Ordinance No. 1010 designed to regulate door-to-door sales and/or solicitations. Those going door-to-door must register with the Police Department and provide identification of each person operating under that license, they must pay a fee for the license, and those involved can only sell or solicit during the hours of 9:00 a.m. till 5:00 p.m.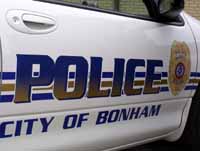 If someone comes to your door ask them if they have registered with the police dept. If they haven't, call the PD. If you feel you are being harassed or you feel you are being pressured, call the PD, or if the person does not leave if you ask them to, call the PD. We do not want to interfere with anyone selling or soliciting door to door and following all the rules, but we want our community to feel safe. Phone number, non-emergency, 903-583-2141 or emergency 9-1-1.

The Bonham Police Department considers it an Honor and a Privilege to do what we can to carry out mission of "TO PROTECT AND SERVE" making Bonham a great place to live.

Mike Bankston

Chief of Police