School News
New Bonham High School taking shape
Apr 3, 2018
Bonham -- With the start of the 2018/2019 school year only 120 days away and as the new Bonham High School begins to take shape, a wave of anticipation is building throughout the community.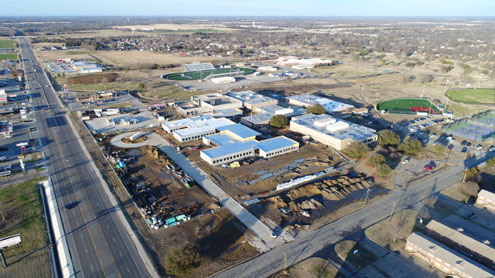 photo by Kyle Porter
For teachers, students and parents, a new school brings a long-awaited improvement in facilities and enhanced security.
For taxpayers, the project is on time and on budget, a fact that is even more impressive given the fact that 28 inches of rain fell at the work site in August.
As lead engineer David Noble studies a weather forecast that calls for a week of rain, this project has already lost 60 working days because of inclement weather.
"If you want rain, just pour concrete," Bonham ISD Superintendent Dr. Marvin Beaty says with a stoic grin.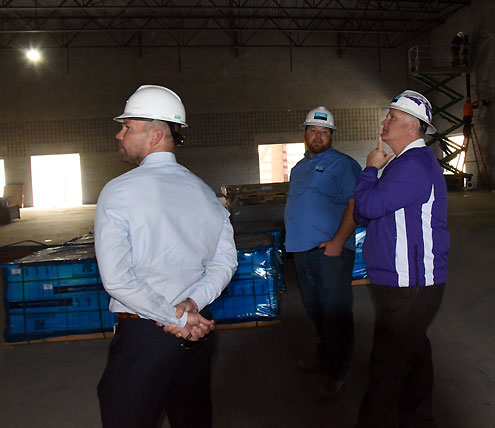 (L-R) Bonham High School Principal Ryan Prock, WRL field engineer Zachary Nelson and Bonham ISD Superintendent Dr. Marvin Beaty tour a performance hall that is beginning to take shape.
Any August in Texas with 28 inches of rain is certainly a surprise and more surprises came as workers examined the shoddy construction techniques in the old high school that opened for the 1970-1971 school year. For example, specs called for the south wall of the existing gymnasium to be a double wall and serve as a fire block. However, workers found only one wall.
Odds are, more surprises will come as demolition of sections of the older structure uncovers more shortcuts taken by unbonded contractors 45 years ago.
On top of that, an update in International Building Code requirements meant that a storm shelter would need to be included; the new Bonham High School will have a safe room that can withstand an EF5 tornado.
But Dr. Beaty says all of the setbacks were countered by the fact the no surprises have come from the architectural firm and general contractor building the new school.
"Stantec (architectural firm) and WRL (general contractor) are the two best I've ever worked with," Beaty says as he tours the new structure. "WRL has never failed to bring a school online on time and that is critical in a project like this where being on budget and on time isn't optional."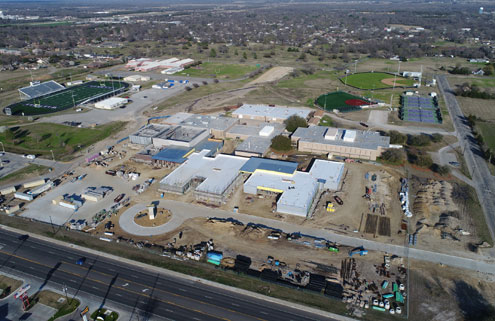 photo by Kyle Porter
School starts August 27 and teachers will need access a couple of weeks prior in order to be prepared. Despite the myriad of challenges that came with this project, the school superintendent is confident the facility will be ready.
"It has been a great test of our ability to be frugal and innovative to stay within budget," he notes.
Realistically, it may take another three weeks to complete the U-shaped parking lot in front of the entrance to the school and to complete the landscaping, but students and teachers will walk into a modern facility that compares favorably to area schools of its size.
Perhaps the most noticeable difference will come for students involved in band, choir and theater, who will now enjoy a performance hall dedicated to those activities.
"I think our arts program will really benefit," remarked BHS Principal Ryan Prock.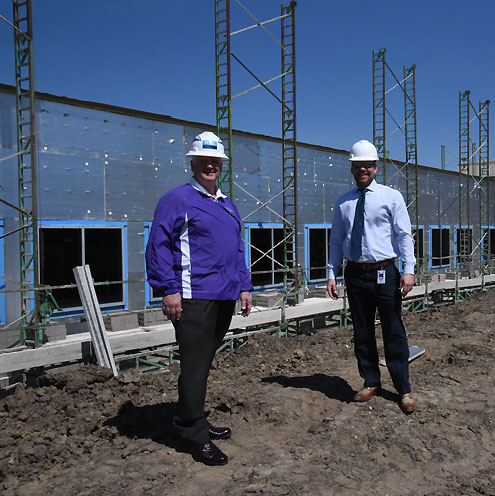 Dr. Marvin Beaty (left), Bonham ISD Superintendent of Schools, and Bonham High School Principal Ryan Prock tour construction at the new Bonham High School.
As with any new school, security is inherent in the design; the likely need for future expansion was also factored into the plans.
While enrollment numbers at Bonham High School have dipped slightly, as a whole, Bonham ISD is experiencing growth. District-wide, enrollment numbers during the past year reflect an increase of approximately 100 students.
"This building was not meant to be extravagant," Beaty said of the new school, "but it will be functional and durable."
Some of the "problems" the school superintendent is facing now are the kind any administrator would enjoy.
A very successful powerlifting program called for the school to double the size of the weight room. In fact, BHS head powerlifting coach Randall Dill's squad recently came home from the State Powerlifting Meet with a pair of medalists.
Numbers are up in the baseball program.
There is a pressing need for new band uniforms and more uniforms, too, because of a resurgence of interest.
"Mr. Tubbs is doing a great job, so needing more band uniforms is a great problem to have," Beaty explains.
Project engineer Zachary Nelson reports the new high school is 90% dried in and power will be on in the 105,000-sq.-ft. structure by the end of April.
"It is pretty exciting to see it all come together," remarks Beaty.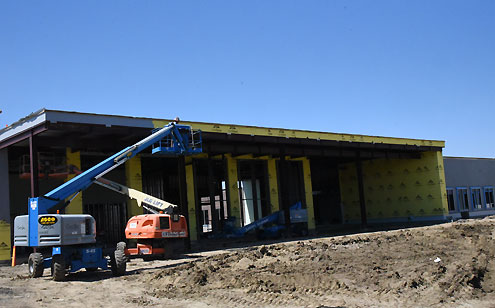 In 120 days, this will be the entrance to Bonham High School. The entrance will face east to avoid the heat of the evening sun and access to the large U-shaped parking lot in front of the entrance can be gained from Warpath Drive.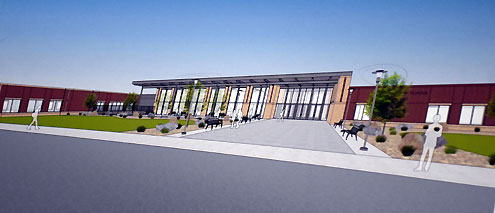 Artist's rendering of the entrance to the new Bonham High School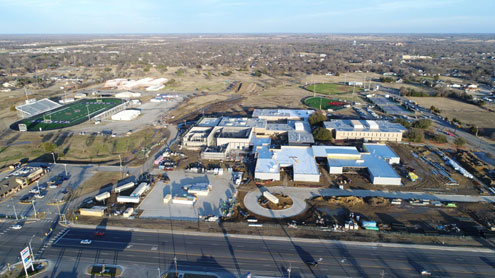 photo by Kyle Porter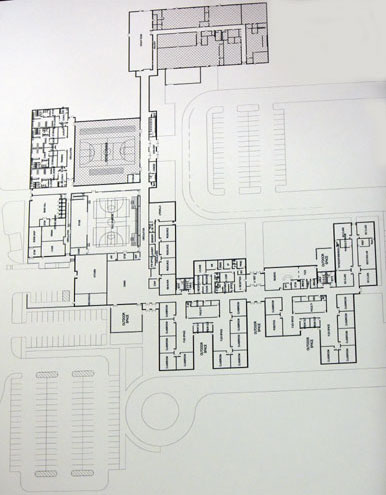 Floorplan for new Bonham High School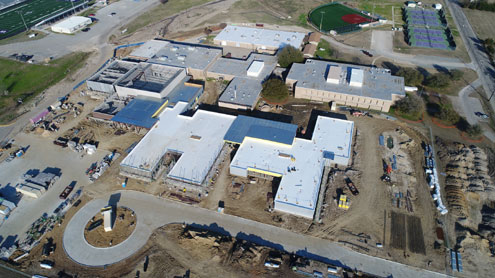 photo by Kyle Porter