School News
Grayson College president Jeremy McMillen recipient of 11th E.T. Dunlap Medal
Apr 7, 2018
Durant, Oklahoma -- Grayson College president Jeremy P. McMillen is the 2018 recipient of the E.T. Dunlap Medal, an award that is presented to a distinguished scholar or outstanding public official.
Dr. McMillen will present the 11th E.T. Dunlap Lecture on Higher Education and Public Policy on April 17 at 11:00 a.m. in Montgomery Auditorium on the campus of Southeastern Oklahoma State University. The lecture is free and open to the public.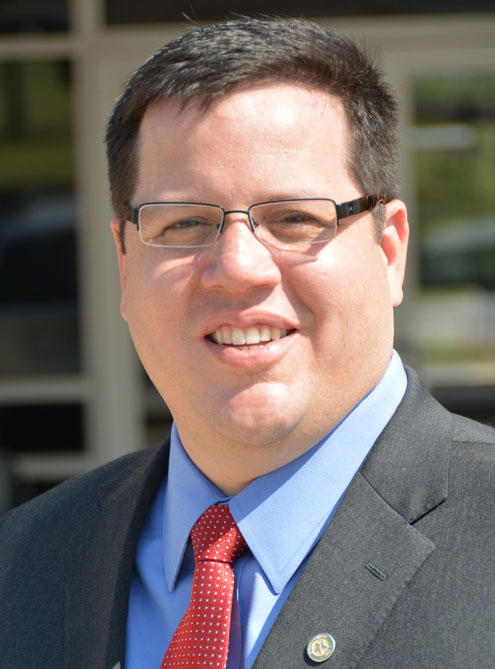 Dr. Jeremy P. McMillen
The Dunlap Medal and Lectureship Program was established in 1989 by the Oklahoma State Regents for Higher Education as a legacy to Dr. E.T. Dunlap, long-time chancellor (1961-82) of education in Oklahoma. At the time the lecture was established, Southeastern was designated as the host institution by the Regents.
Among the previous recipients of the prestigious Dunlap Medal are David Boren, Carl Albert, and current Chancellor Glen D. Johnson, a former president of Southeastern. Chancellor Johnson is expected to attend this year's lecture.
"President McMillen is very deserving of the E.T. Dunlap award,'' said Southeastern president Sean Burrage. "He is a dynamic leader who is making a huge impact throughout the entire Texomaland region. Most importantly, he is a tireless advocate for students as he continues to successfully implement innovative ideas in the rapidly changing world of higher education. Since Grayson was founded in 1965, it has been a great partner to Southeastern -- and from day one in 2012 when he was named president, Dr. McMillen has embraced this history. Working together, two institutions can accomplish a great deal by practicing the philosophy of doing what's best for students, and that's what we do as partners.''
Despite being located in different states – Grayson's campuses are in Denison and Van Alstyne, Texas, and Southeastern has six sites in Oklahoma -- the two neighbors have teamed up to serve students in unique ways.
Guided by then-presidents Johnson and Dr. Alan Scheibmeir -- Southeastern and Grayson received formal approval from various state and national governing boards to offer the Elementary Education degree at Grayson College beginning in the fall of 2005.
Since that time, Southeastern has continued to expand programs and courses (business, criminal justice, occupational safety & health, psychology, etc., and selected graduate programs) at Grayson. Course delivery methods include traditional face-to-face, online, and instructional television.
The two schools are continuing to explore the potential for an expanded partnership in the future.
Dr. Jeremy McMillen joined Grayson College as its fifth president in July 2012.
He began his career in higher education teaching sociology as a graduate student at Texas A&M-Commerce in 1995. He then served as the Director of Educational Talent Search working with low income first generation students at Paris Junior College. McMillen returned to A&M-Commerce as director of institutional research and then went to Trinity Valley Community College as dean of planning and institutional research. At TVCC, McMillen was promoted to assistant vice president for academic affairs and finally associate vice president for academic affairs.
Active in state and national higher education initiatives, McMillen serves as the immediate past chair of the board of directors for United Way of Grayson County and is a board member of Texoma Workforce Solutions and the Texoma Craft Beverage Alliance. He is immediate past chair of the North Texas Community College Consortium.
State involvement includes serving on the Executive Committee for the Texas Association of Community Colleges and two committees with the Texas Higher Education Coordinating Board Community and Technical College Leadership Council and Community and Technical College Formula Advisory Committee.
Nationally, McMillen serves on the Commission on Workforce and Economic Development for the American Association of Community Colleges.
He received a bachelor's degree and a master's degree, both in sociology, from what is now Texas A&M University-Commerce. He returned to the institution to earn his doctorate in higher education.
McMillen and his wife, also an A&M-Commerce graduate, reside in Denison, Texas, with their son.
Dr. E.T. Dunlap (1914-1997) was a 1940 graduate of Southeastern and the first Distinguished Alumnus of the University. After graduating from Southeastern, Dunlap served as a teacher, county superintendent of schools and high school inspector for accreditation for the Oklahoma State Department of Education. He was then elected to the Oklahoma House of Representatives in 1946, chaired the Committee on Education, and was the principal author of the Education Code, which was signed into law in 1949.
From 1951-1961, he was president of Eastern Oklahoma State College, Wilburton. He left this post to become Oklahoma's second chancellor of higher education.