Local News
Meet the Bonham ISD Board of Trustees candidates April 17
Apr 16, 2018
Tuesday, April 17 from 6:00 p.m. to 8:00 p.m. in the Bonham ISD Board Room - Administration Building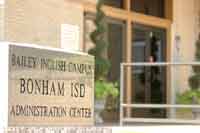 Bonham -- The I.W. Evans PTO invites the community to attend a public forum with the Bonham ISD Board of Trustees candidates. The PTO organized this event in order to give the candidates an opportunity to get their message out to the voters and simultaneously help the voters make an informed decision at the polls.

Each candidate will be given the opportunity for an introduction and will receive three separate questions in which to respond. Once these questions are complete, questions submitted by audience members will be addressed with the moderator. Each question asked to the candidates will be limited to a two minute response.

Place 1: Chance Roberts, Chad Burnett

Place 2: Dana Porter, Mike Patton, Lisa Greenway, Myles Galyon

Place 7: Jeri Lea Johnson

Early voting is April 23 - May 1 from 8:00 a.m.-5:00 p.m., with extended voting hours of 7:00 a.m.-7:00 p.m. on
April 26 and May 1.

Election Day is May 1 from 7:00 a.m.-7:00 p.m.