Lifestyles
Rebecca Crockett Chapter presents Daughters of the American Revolution National Medal of Honor
Apr 11, 2018
Gainesville, Texas -- Linda Moore, Regent Rebecca Crockett Chapter, was pleased to honor Don Pettigrew with the DAR Medal of Honor in recognition of his leadership and service to community and country. He is a great American, not just because of his meritorious military service but also in recognition of his long-term commitment to volunteerism and, specifically, the Medal of Honor Host City program. This award truly recognizes, and thanks, an outstanding patriot.
DAR MEDAL of HONOR, is the most prestigious honor awarded by the NATIONAL SOCIETY DAUGHTERS OF THE AMERICN REVOLUTION to an adult man or woman who is a United States citizen by birth and has shown extraordinary qualities of leadership, trustworthiness, service and patriotism.
The recipient must have made unusual and lasting contributions to our American Heritage by truly giving of himself or herself to his or her community, state, country, and fellowman.
Don Pettigrew, graduating from Bowie High School in a time when many young men were trying to avoid serving their county, volunteered to join the U.S. Marine Corp.
Thus, began his dedication and service to his country.
Trained as a Vietnamese language interpreter, Don served in Vietnam as a Marine rifleman and for his service was awarded the Purple Heart, Navy Commendation Medal w/V device, Combat Action Ribbon as well as several service and campaign medals and unit citations.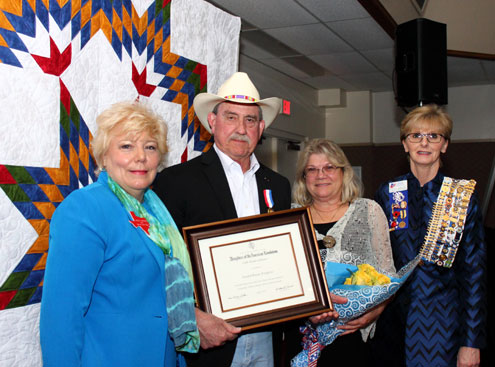 (L-R) Linda Moore, Regent Rebecca Crockett DAR, Don Pettigrew, his wife Lynette Pettigrew and Kathy Hanlon, Texas State Chair Americanism DAR.
After leaving his beloved Marine Corp, Don earned his bachelor's degree from North Texas State University.
Don worked as an Adult Probation Officer for Cooke County Supervision Corrections Department.
In addition to his duties as a probation officer, Don was responsible for the concept and creation of the MOH Host City program adopted by the City of Gainesville's City Council in the spring of 2001.
Mayor Jim Goldsworthy stated, "Without Don's vision, service and leadership our MOH Host City Program would not have been possible. We are extremely grateful for what Don has done for our community, the MOH recipients and all our service men and women."
Tommy Moore wrote, "His legacy will leave many generations with a sense of pride, responsibility and patriotism in Gainesville, Texas. He maintains the Marine Corps values, Honor, Courage and Commitment."
DAR is a women's service organization dedicated to promoting historic preservation, education, patriotism and honoring the patriots of the Revolutionary War. We are a nonprofit, nonpolitical volunteer women's service organization dedicated to promoting patriotism, preserving American history and securing America's future through better education.
Any woman, regardless of race, religion or ethnic background, who can prove lineal descent from patriots of the American Revolution is eligible to join.
For information about the DAR Chapter please contact:
Rebecca.Crockett.Chapter@gmail.com