School News
Austin College music department presents 'Chamber Music and Jazz'
Apr 11, 2018
Sherman, Texas -- The Austin College Department of Music presents "An Evening of Chamber Music and Jazz" Monday, April 16, at 7:30 p.m. in Wynne Chapel on the college campus, The Austin College Chamber Orchestra and Greater Texoma Jazz Ensemble, under the direction of Dr. Ricky Duhaime, Austin College Mosher Professor of Music; and guest director Paul Onspaugh, perform their annual spring concert, free and open to the public. For more information, contact the Austin College Music Department at 903.813.2251.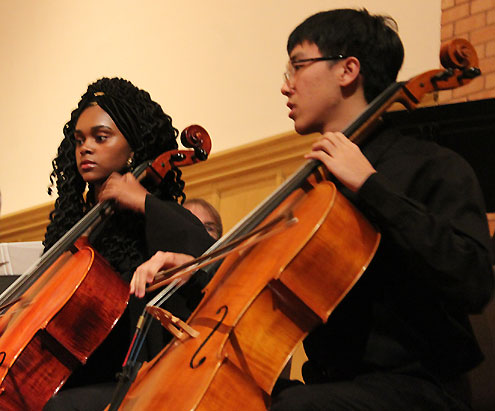 The first half of the concert will be devoted to the Austin College Chamber Orchestra performing Five Pieces, Op. 44, by Paul Hindemith for strings alone and a set of Hungarian Dances from the 17th Century as set for strings and winds by Ferenc Farkas and Duhaime.
The Chamber Orchestra is made up of Austin College students, joined this semester by community member Greg Hendrix. Students with majors and minors across many departments of the College are represented in the group, with varying professional goals and a continuing interest in music.
The second half of the concert will feature the Greater Texoma Jazz Ensemble, under the direction of Onspaugh, performing a variety of big band charts in both traditional and contemporary styles, with Duhaime appearing as a soloist in three arrangements devoted to clarinetist Benny Goodman, the legendary King of Swing.
The Greater Texoma Jazz Ensemble consists of students, faculty, and adult musicians from throughout the region. The ensemble has performed this year in Denison, Durant, and Bells high schools as well as Austin College. This semesterís concerts feature jazz soloists James Carter and Xavier Shubert (alto saxophones), Mason Bird and Chris Dickson (tenor saxophones), Jesse Speer and Michael Waters (trombones), Andrew Gregg, John Vietta, and Doug Hanson (trumpets), Phil Pitts (piano), David Moore (guitar), Phil Pitts (piano), and Richard Burleson (drums).
Austin College, a private national liberal arts college located north of Dallas in Sherman, Texas, has earned a reputation for excellence in academic preparation, international study, pre-professional foundations, leadership development, committed faculty, and hands-on, adventurous learning opportunities. One of 40 schools profiled in Loren Popeís influential book Colleges That Change Lives, Austin College boasts a welcoming community that embraces diversity and individuality, with more than 40 percent of students representing ethnic minorities. A residential student body of approximately 1,275 students and a faculty of more than 100 allow a 13:1 student-faculty ratio and personalized attention. The College is related by covenant to the Presbyterian Church (USA) and cultivates an inclusive atmosphere that supports studentsí faith journeys regardless of religious tradition. Founded in 1849, the College is the oldest institution of higher education in Texas operating under original name and charter.