Farm and Ranch
Drought conditions affecting herd stocking rates in West Texas, Panhandle
Apr 29, 2018
FORT STOCKTON – Drought conditions grip much of West Texas and the Panhandle, driving many producers to reconsider herd stocking rates, while water and cool- and warm-season grasses are plentiful in eastern areas of the state, according to Texas A&M AgriLife Extension Service specialists.
Dr. Bruce Carpenter, AgriLife Extension livestock specialist, Fort Stockton, said most rangeland and pastures west of the Pecos River haven't received a meaningful rain since October. Most producers provide water for cattle via wells, but available forage is becoming scarce.
Carpenter said drought conditions are forcing, or could soon force, producers to make decisions regarding their herds if a significant rain does not arrive soon. Some producers with reasonable standing forage may be able to wait for rain or cull lesser cows to make pastures last longer, but the weather will determine how long.
"Wheat hasn't had the moisture to get the growth producers need for normal stocking rates," he said. "They're having to rethink their plan. Some producers are culling. Those who aren't probably need to be looking at their pastures and deciding when and what cattle to cull or whether they might be able to make the next rain."
Dr. Ted McCollum, AgriLife Extension beef cattle specialist, Amarillo, said the cow/calf outlook was normal for the Panhandle aside from drier-than-normal conditions.
"There may be some instances where producers have had to adjust their stocking rates due to drier conditions, but I've not heard anything out of the ordinary for this time of year," he said.
McCollum said most producers appear to be faring well despite the lack of precipitation since October. Good conditions through late fall provided adequate stockpiles of forage on rangelands for winter grazing.
But the lack of rain could mean a slow start for warm-season grasses, he said. That may extend the time producers provide supplemental feed.
Stocker cattle on wheat began coming off pasture earlier than normal because of forage conditions, he said. Many calves never went out to graze, while others have been shipped earlier than normal.
There are still cattle grazing out small-grain fields in the region, McCollum said.
"The flow of stockers on and off small grains this year is different than normal and may influence some markets by the different distributions and movement over the winter and spring," he said.
The feeder cattle market has deflated recently as the number of fed cattle marketed has drifted lower, he said. The light calf market has held better than that for heavier feeder calves.
"It will be hard to kick spring off well if we don't get some rain soon," McCollum said. "We have good deep moisture in pastures and rangelands, but the topsoil profile needs some help. If the dry spell continues, it will mean a slow start to spring, and that could mean some further adjustments to producers' stocking rates."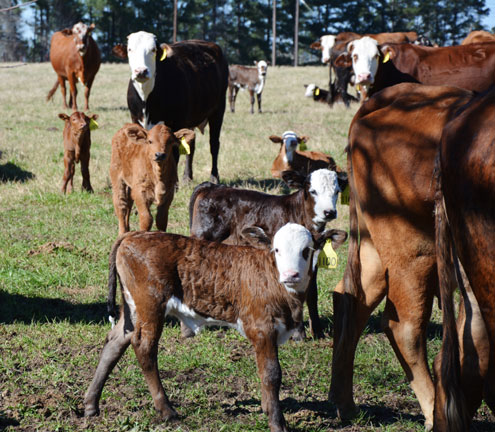 Winter-born calves at the Texas A&M AgriLife Research and Extension Center in Overton. (Texas A&M AgriLife Extension Service photo by Adam Russell)
Dr. Jason Cleere, AgriLife Extension, beef cattle specialist, College Station, said ample rains and relatively normal springtime temperatures created good conditions for cow/calf operations in East and Southeast Texas.
"Some producers may still be calving, but most have calved out and are beginning to work them," he said. "If it continues to rain, we should be in good shape."
Cold fronts have slowed growth in warm-season grasses like Bermuda and Bahia, Cleere said, but that cool-season forages like ryegrass and clover remain prevalent in pastures.
He said producers have begun to fertilize some warm-season pastures in the hopes of timing applications with rains, but that the timing could be too early and benefit cool-season grasses instead.
"Producers want to take advantage of spring rains, but if it's applied too early, remaining winter/spring weeds, ryegrass and clover will steal nutrients that were intended for Bermuda grass," he said.