Local News
Great workshops at Earth Day Texoma April 21
Apr 20, 2018
This year, Earth Day Texoma on April 21 has several great workshops to look forward to covering a broad range of topics.
Beginning at 9:50 a.m., Linn Cates will tell us all about monarch waystations. Participants will gain familiarity with the national movement to install resting places for monarch butterflies (Danaus plexippus) in their northward and southward migrations. This beautiful creature has become endangered due to the destruction of habitat. Citizens are making a difference with mindful planting of native vegetation that provide nectar and milkweeds, which host eggs, larval, and pupal stages of the butterfly. Participants learn how they might take part in this movement and participate in sustaining the habitat of a key indicator species.
Linn Cates is a native Texan and a graduate of UT Austin. She was a founder of the Belden Street Montessori School in 1985. After retirement, she became passionate about the prairie. She is a certified Texas Master Naturalist and a tireless worker at the Hagerman Butterfly Garden, a registered Monarch Waystation.
At 12:30 p.m., Joey Smith will tell us about a creative way to reuse dead laptop batteries. His workshop will be a step-by-step demonstration on how to take dead laptop batteries and give them a second life as a battery pack to power other devices.
He has worked in information technology for over 10 years, serving two public schools in Oklahoma. This summer he decided to reduce his energy footprint by converting his lighting to 12 volt and using solar energy to recharge his current lead acid batteries. While searching for a way to optimize his solar setup, he ran across the idea of using dead cells from laptop batteries. Working at two public schools, he had access to many "trashed" batteries. He took this as an opportunity to make green energy by using the cells of dead laptop batteries.
At 1:30 p.m., Marianna Perkins will teach us how to reduce our carbon footprint by simplifying and learning new tools to dispose of and/or recycle many household items. Marianna Perkins has lived in the Texoma area for many years. She has worked in senior living for sixteen years, ranging from long term care to independent living. She spent several years in ministry starting "All 4U Senior Transition Solutions" in 2017 to help local Seniors transition into a different living space, from downsizing to setting up in a new home or apartment. She and her husband, Gary, currently reside in Sherman with their youngest daughter.
Rounding out the afternoon, at 2:30 p.m. Kate Saling will give her workshop Leave No Trace. Calling all hikers, campers, and outdoor adventurers! Whether you're a lifetime lover of the wild or someone who wants to get out a little more, drop by and learn how to protect the outdoors. Learn how to be more prepared and how to leave a smaller impact on the land and its wildlife. We'll cover "Leave No Trace" principles and discuss ways to spread this message in your community.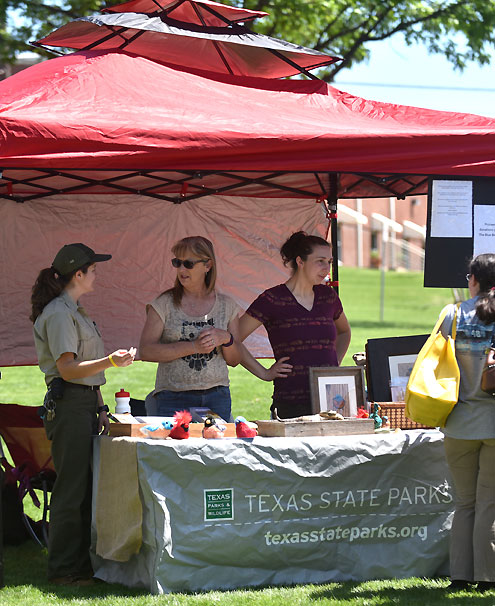 Ranger Kate Saling has worked at Eisenhower State Park since 2015. Her role at the park is to introduce people to the wonders of the natural world and inspire them to protect those areas. Before joining Texas Parks and Wildlife, she served three terms with AmeriCorps in Minnesota, Nevada, and Texas, where she learned how to build hiking trails, improve timber stands, and restore endangered habitat for wildlife.