School News
Southeastern's Matt Maxwell accepted into UCSD-Salk Institute graduate program
Apr 13, 2018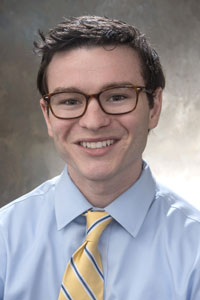 DURANT, Okla. – Matt Maxwell will graduate from Southeastern Oklahoma State University in May with a degree in chemistry.

But that's only the beginning. Maxwell recently accepted an offer of admission from a joint Ph.D. program between The University of California, San Diego (UCSD) and The Salk Institute for Biological Studies to study cancer biology.

The Durant High School graduate expects to spend most of his time in graduate school in a biomedical research laboratory trying to uncover basic truths about human biology that can hopefully be utilized to develop more effective therapeutics for diseases such as cancer and diabetes.

Beyond graduate school, Maxwell says his career goals are to "conduct research that will lead to the development of novel cancer therapeutics and to act as a mentor to young underrepresented students -- such as Native Americans -- in STEM fields."

Maxwell, who is Choctaw, received a number of offers from graduate schools, but says he chose UCSD because of the world-class research community in San Diego and its partnership with the Salk Institute. Founded in 1960 by Jonas Salk, developer of the first safe and effective polio vaccine, the Salk Institute is an independent, non-profit, scientific research institute located in La Jolla, California.

The UCSD graduate program is fully funded and provides all students with a generous stipend throughout the duration of graduate school, which is usually 5-6 years.

"Education is the foundation upon which the future is built,'' said Neal Hawkins, Executive Director of Education at the Choctaw Nation of Oklahoma. "The Choctaw Nation is committed to give the resources to our students in order for them to succeed. Our Chief, Gary Batton, our Assistant Chief, Jack Austin. Jr., and our Tribal Council continue to commit their time, efforts, and funding to our educational programs and scholarships for higher education. We congratulate Matt Maxwell on this new opportunity and his accomplishments."