Sports
Getting ready....
Apr 16, 2018
I think preparing for an outdoor outing is almost as much fun as the outing itself. A turkey hunt that I am in the midst of preparing for is a good case in point. For many years, I have enjoyed hunting the rugged Cedar Breaks country of Knox County on Ranger Creek Ranch. If you read this column regularly, you might remember a bow hunt for javelina at Ranger Creek that I wrote about a couple months ago.
Turkey hunting is always good on this big ranch but especially good this year. In a radio interview I recently did with guide Ryan Dwyer, he reported early season hunters were seeing and harvesting a lot of mature gobblers. Hunting was so good, in fact, that a couple of hunters from Mississippi harvested their birds very early into their hunt and decided to head back to their home state. A few miles down the road from the ranch, they talked it over and decided they wanted to return immediately and continue hunting. According to Dwyer, they did just that and in short order, took a couple more longbeards! Hunting has been just that good.
Iíve been Ďchompin at the bití to get out in the spring turkey woods but because of a very busy schedule, have had to wait until this week to go.
Did you ever think of all the things that must be packed for a turkey hunt or, any outdoor outing for that matter? I absolutely love the challenge of hunting turkey with my bow but I always pack my 12 gauge loaded with a heavy charge of # 4 shot, just in case. When hunting from a blind with a bow, itís necessary to wait until the gobbler comes to you, but with a shotgun, itís possible to close the distance to the bird.
Sometimes, just moving a few yards tricks a gobbler into thinking the hen he is in pursuit of is on the move and causes him to close the distance. The past few days, Iíve been shooting my bow out to 30 yards and feel confident that from a ground blind, I can arrow a gobbler if the opportunity presents itself. I have killed several turkeys through the years with my bows, but, with the exception of a couple, all have been from some sort of ground blind. Turkeys really do have X Ray vision and itís next to impossible to draw a bow unless the movement can be concealed.
Although I have used the same old 12 gauge on turkey hunts for several decades, I always get out and pattern it to make sure I know where to hold if I have to resort to fire power.
I usually place a hen decoy about 20 yards out from the blind when using my bow and do my calling from inside the blind. Gobblers have the ability to pin point the exact location of sounds and itís not uncommon to call receptive gobblers in from several hundred yards on a calm day. It does take some patience to be successful with a bow.
When shotgun hunting, you donít have to worry about setting up a blind. You can Ďgo toí the bird by simply shouldering your shotgun and heading out. If you are bow hunting, itís usually necessary to depend upon some sort of blind to conceal movement. With the birds as Ďhotí as they are now, I feel pretty confident that a blind and decoy in the right place and some good calling should produce a turkey dinner or two!
For many years, I enjoyed hunting spring turkey with the late Bob Hood, well known Texas outdoors writer. Bob was one of the best turkey hunters I have hunted with and I learned a lot from him through the years. When Bob got into an area he knew was holding turkeys, he would sit tight, sometimes for hours on end and wait them out.
Bob taught me that calling too often and moving too much usually dosenít equate to a successful turkey hunt. Once a gobbler hears what he thinks is a hen yelping, he will either stop, gobble and strut or come toward the sound on a trot. Itís very common for gobblers to come in quietly, without gobbling at all. This is why itís important to be concealed in a blind or remain perfectly still.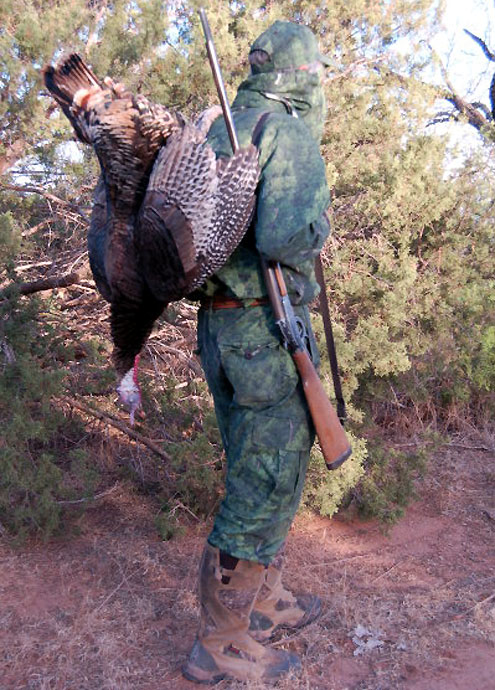 The late Bob Hood, well-known outdoor writer from Texas, was one of Lukeís best friends and a great turkey hunter. Here Bob is toting a fine gobbler out of the brush at Ranger Creek Ranch a few years ago. Bob killed close to 200 gobblers with his old single-shot Ithaca shotgun through the years. photo by Luke Clayton
Bob used a 12-foot piece of camo burlap about 50 inches wide for a very serviceable and highly portable blind. He wove a piece of cord through the top of the camo and tied elastic cords with hooks on each end. When he got to a spot he wished to hunt, he would simply open the camo and form a semi-circle around brush to hide behind, using the hooks to keep the camo in place.
When he was ready to move, he simply rolled the camo up, wrapped the cord around it and affixed it to his waist via the elastic straps. I have one of Bobís blinds in my truck that I use to this day; Iíve killed a lot of turkey while concealed behind it!
If all goes according to plan, Iíll give you an update on the hunt at Ranger Creek in next weekís column.
To learn more about the hunting opportunities at Ranger Creek, visit the website www.rangercreekranch.com
Listen to Lukeís radio show, ďOutdoors with Luke Clayton and FriendsĒ on radio stations from Nebraska to Texas on weekends or anytime online at www.catfishradio.org.