Religion
The Steel Magnolias, San Marcos, TX, present concert in Bonham
May 4, 2018
Bonham -- On Saturday evening, May 5, 2018, The Steel Magnolias of San Marcos, Texas, will present a fully choreographed concert at the Trinity Baptist Church, Bonham, TX, at 6:00 p.m. There is no charge for the concert – the public is invited.
The Steel Magnolias have sung throughout the United States for the past twelve years. They've sung along the east coast twice; on the last tour to the east they spent 16-days traveling as far north as Niagara Falls, singing 43 times through 15 states, covering 4600 miles. They presented 13 "Flash Mobs," including New York City at Radio City Music Hall, Rockefeller Center, Times Square, Liberty Island Ferry, the new One World Trade Center, and invited to sing at the Billy Graham Library and Samaritan's Purse in North Carolina. On that same concert tour, the ladies presented five concerts at a 3-Day Virginia Beach Gospel Music Festival in Virginia Beach, VA.
The ladies have traveled through middle America and one of their favorite highlights is to sing at the Calhoun County Jail in Anniston, AL, where The Steel Magnolias have been featured on the Birmingham News Station WEAC TV 24.
The ladies just returned from another 16-day tour this past October 2017, to the Pacific Northwest, traveling through 12 US states, plus Victoria, British Columbia. They covered over 5800 miles presenting 39 Gospel Music concerts as they do every year in churches, community centers, VA hospitals, prisons, plus "flash mobs throughout the tour.
Their 2018 theme is: Sharing Jesus with URGENCY!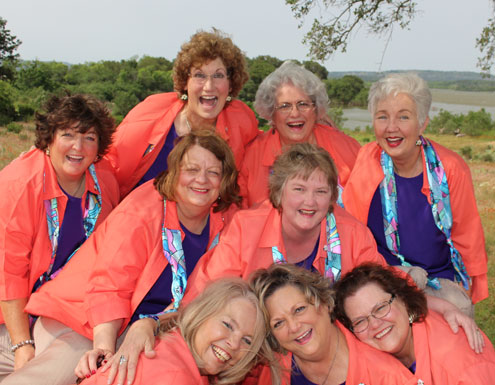 These ladies present as many as one hundred fifty volunteer concerts a year. They do not charge nor ask for a love offering. Your life will never be the same after experiencing the dynamic witness and singing of The Steel Magnolias.
The pastor, Henry Shelton, and the congregation of Trinity Baptist Church invite the public to come hear The Steel Magnolias present a special gospel music concert on that Saturday evening, May 5th at 6 pm. The church is located at 219 W. Denison Street, Bonham, TX 75418.
You can call the church office at (903) 583-3388, or Debbie Daniel, (512) 757-4901, for more information, or go to:
www.thesteelmagnolias.com
to see The Steel Magnolia concert schedule, or
www.facebook.com/thesteelmagnoliastx
to find out more about this ministry.