Obituaries
Arminta Tuck
May 14, 2018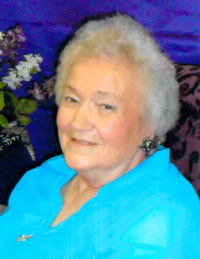 Bonham, Texas -- A Memorial Service for Arminta Tuck, 86, of Bonham, Texas will be held at 3:00 p.m. on Sunday, May 20, 2018 at Solid Rock Pentecostal Church of God in Bonham, Texas. Officiating will be Bro. Troy Miles. Arminta passed away on May 10, 2018. She was born September 5, 1931 in Lindsey, Oklahoma to James Corbitt Combs & Tressa Marie Walton Combs.

Arminta married Rev. Robert Ralph Tuck on May 29, 1951 in Phoenix, AZ, and was Pastor's wife for many years, and considered by her family and friends as a Bible Scholar and Evangelist. She came from a large family. She was a great musician and singer, loved to travel across the country, especially with her Christian Motorcycle Club. She was a great lover of people, and never met a stranger. Her biggest treasure though was her family, especially her grandchildren and great-grandchildren.

Arminta was preceded in death by her husband of 58 years, Robert Ralph Tuck on October 12, 2009; parents, James Corbitt Combs & Tressa Marie Combs; son, Ralph James Tuck and son-in-law, Vernon D. Jackson; two older sisters and three older brothers.

Surviving are her children, son, Bob Tuck and wife Laurna Jo of Trenton, TX, daughter, Lanette Jackson of Ridgeland, MS; son, Randall Tuck and wife Julie of Lathrop, CA, son, Kenny Tuck of Trenton, TX and former wife Nancy of The Colony, TX; seventeen grandchildren and twenty-two great-grandchildren.

Cremation arrangements are under the care and direction of Wise Funeral Home.

An online guestbook is available at www.wisefuneralhome.com.