Sports
Free Fishing Days in Oklahoma set June 2-3
Jun 1, 2018
Summertime and the fishin' Is easy;
ways to partake are plentiful
As the days get warmer, fishing seems to only get better. Why not take advantage of opportunities to wet a line and experience some good times near the water? Here are some great ways to do just that.
Free Fishing Days in Oklahoma: There is no better time to introduce your friends or family members to the great American pastime of fishing than to take them out on Free Fishing Days!
Anyone can fish for free June 2-3, 2018, in Oklahoma. On that weekend, a state fishing license will not be required for any resident or nonresident angler to fish.
The Sooner State has some excellent fishing in lakes, ponds, rivers and streams, but also in urban waters designated by the Oklahoma Department of Wildlife Conservation as "Close to Home Fishing" locations.
Although state fishing licenses and the Oklahoma City fishing permit (where applicable) are not required during Free Fishing Days, anglers should note that certain city permits may still apply in other urban fishing areas. Additionally, anglers fishing Lake Texoma should be aware that Free Fishing Days applies for all of the lake on June 2 but only on Oklahoma portions of the lake on June 3.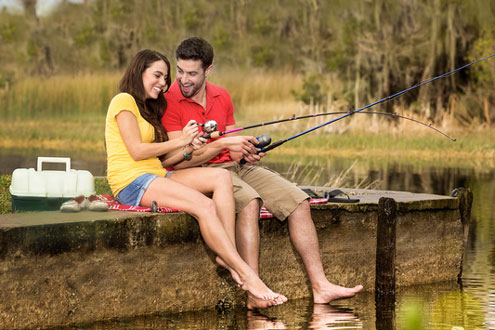 Oklahoma's Free Fishing Days is the perfect chance to show someone the joys of fishing for the first time. No state fishing license is required June 2-3, 2018.
Oklahoma was the first state in the nation to offer free fishing days about 35 years ago and has since been followed by dozens of other states that have established similar days.