Local News
Denison Genealogical Society to meet May 30
May 29, 2018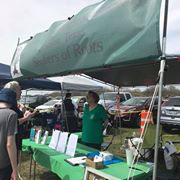 Susan Simms at Denison Genealogical Society booth at Celtic Festival 2018.

Denison -- Members of The Denison Genealogical Society had a booth at the Sherman Celtic Festival on March 24 to answer questions about genealogy and provide helpful resources.

The Society will meet Wednesday, May 30 at 1:30 p.m. A video about German immigration to America in the 1800s will be shown: Germans to America: Into the Promised Land.

The Denison Genealogical Society meets the last Wednesday of each month at 1:30 p.m. at the Denison Public Library at 300 W. Gandy. Members, their guests, and all those interested in genealogy & family histories are welcome.

Email denisongenealogy@yahoo.com, Facebook page Denison Genealogy, Grayson Co., Tx or P.O. Box 1194, Denison, Texas.