Local News
Texoma Housing Partners establishes Fannin County Sheriff's Substation
Jun 1, 2018
Ribbon cutting held to celebrate new partnership
Ladonia, May 30, 2018 - Texoma Housing Partners (THP) held a ribbon cutting to recognize the newly installed Fannin County Sheriff's Substation located at the Ladonia Addition.
THP is an affordable housing consortium which includes 19 cities located across 4 counties; Ladonia is one of the 19 cities participating in the consortium. "Our mission is to constantly pursue innovative strategies which will enable us to continue to be a proven expert in providing families quality rental housing and opportunities to enrich their lives," stated Allison Reider, THP Executive Director.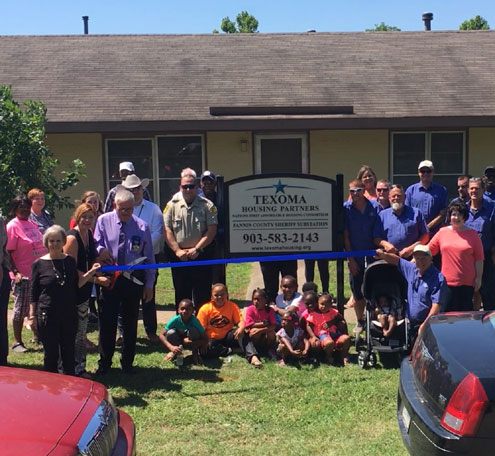 The purpose of the substation is to foster an environment of unity and support between the residents of the Ladonia Addition and law enforcement.
"We believe this partnership is going to produce mutually beneficial results, Allison Reider said, "when residents are given an opportunity to interact and develop a positive relationship with sheriff deputies, it will give way to a more secure property, and the provision of an office space will offer the sheriff's office the ability to broaden their presence."
Fannin County Sherriff, Mark Johnson offered the following comment, "This is a win-win situation and we want THP to know we appreciate the opportunity to work with them in our endeavor to create and maintain a secure environment, not just for the residents of the Ladonia Addition but the city of Ladonia."