Obituaries
Rollin Smith
Jun 1, 2018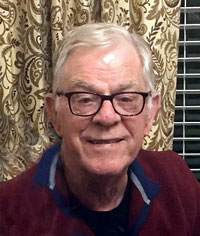 Bonham, Texas -- Funeral services for Rollin Smith, 79, of Denison, Texas will be held 10:00 a.m. Monday, June 4, 2018 at Wise Funeral Home Chapel in Bonham, Texas. Officiating will be Pastor Eddie Prince. Interment will follow at Albany Cemetery in Albany, Oklahoma. Rollin passed away on May 29, 2018. He was born October 9, 1938 in Ottawa, Kansas to Robert B. Smith & Dorothy L. Cordell Smith.

Rollin married Elva Jo Lewis on March 21, 1959 in Richmond, CA. He served in the US Navy during Vietnam at the Bay of Tonkin, aboard the Coral Sea. Rollin and his wife, Elva Jo, enjoyed taking road trips in the US and seeing lots of interesting places. He enjoyed fishing and going to his cabin in the mountains of California. He was a handy man and enjoyed doing some wood work. His greatest joys in life were his family, friends and his faith in Jesus Christ as his Lord and Savior.

Rollin was always there with a helping hand for others. He was a person who radiated joy, and he had a tremendous capacity to spread laughter to all he encountered.

Rollin was preceded in death by his parents, Robert B. Smith & Dorothy L. Cordell Smith; brother, Richard Deverne Smith; nephew, Mark Smith; mother-in-law, Elva N. Lewis Mahler.

Surviving are his wife of 59 years, Elva Jo Smith; sister-in-law, Lynda McCaleb and husband, Bruce of Colorado Springs, CO; nephew, Jeffery McCaleb and wife Renee of Livermore, CA, and their children; nieces, Debra Andre and husband Terence of Colorado Springs, CO, and their children, and Julie Smith of Pinole, CA and her children.

Pallbearers will be Brian Andre, Terence Andre, Zachary Andre, Bruce McCaleb, Jeffery McCaleb, and Glen Chesser. Honorary Pallbearer will be Justin McCaleb.

The family will receive friends at 9:00 a.m. (1 hour before service) on Monday, June 4, 2018 at Wise Funeral Home Chapel.

An online guestbook is available at www.wisefuneralhome.com.