Lifestyles
Butch Hancock, 100% Texas singer-songwriter, to appear at Harmony House Concerts
Jul 7, 2018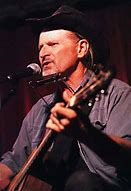 Fannin County, Texas -- On Saturday night, July 7, 2018, Lubbock-born Butch Hancock will be performing 'live' at Harmony House Concerts on Wildscape Acres, from 7:30-9:30 pm. Butch was one of the original members of "The Flatlanders", along with Joe Ely and Jimmy Dale Gilmore. In recent years, Butch has been appearing in more solo performances and making his own recordings. Visit his website, www.butchhancock.net, for more information and to hear some of his songs. There are many YouTube videos online as well. See brief bio below.

Harmony House Concerts is located about 10 miles north of Bonham, TX and 65 miles NE of the Dallas area in a vintage reclaimed home amidst natural surroundings. Should you need directions to Harmony House, please indicate this when you make reservations. Concerts are held indoors in the living/dining room, but the entire house is used during a gig. Bottomless cups of coffee and hot tea will be in the kitchen 'coffee bar'. Organic punches made of teas and juices will be available in the breakfast room. There is also a basket for optional $1 donations to help defray the expense of the hosts, Faye and Scott, in the breakfast room. During the break, treats and munchies will be available in the dining room and master bedroom.

Reservations for Butch's show are $15 per person. Make reservations by calling 903-583-2661. If we aren't around to answer your call, please leave your name, # of seats desired, and contact information (preferably, an e-mail address). If you want to prepay, please send a check, made out to Butch Hancock, to Faye Wedell; P.O. Box 812; Bonham, TX 75418, to be received by Wednesday, July 5th. You may also pay at the door with check or cash (basket provided for reservation $ at the Reservation Check-in Table in the dining room). If you make a reservation, please have the courtesy of showing up — "no-shows are a no-no"! If you have to cancel a reservation, please do so ASAP, since there will be a waiting list for this concert.

Butch will play two 45-minute sets with a 30-minute intermission between sets for grazing, visiting with other guests, and purchasing CDs (also available before and after the concert). All CD and product payments are to go into a separate basket provided and marked for this. Butch may be accompanied by his son, who has started performing with him at some venues.

An optional potluck dinner of 'Assorted Salads' will be held on the grounds at 6:30 pm. Please notify Faye about what you plan to bring, as she attempts to make suggestions to avoid too many duplications. Breads, crackers, and desserts are also enjoyed. NOTE: Butch and his family prefer vegetarian meals.

After the show, guests often stick around for a Song Circle. If you play an instrument or like to sing or just listen to others, please bring your instruments, voices, and ears. When a Song Circle happens, everyone enjoys hearing what others might want to contribute.

Brief bio: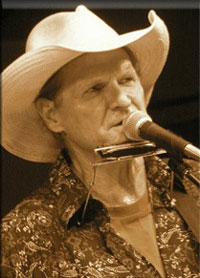 A world traveling troubadour with a long string of recorded songs and albums, Butch Hancock has been called "one of the finest songwriters of our time" and is acknowledged by his peers and critics alike as one of the premiere singer-songwriters Texas has ever produced. His tunes evoke mystical visions of wind-swept dry-plains and his lyrics are profoundly imaginative, often displaying for his listeners the miracles that occur in the ordinary through creative irony and metaphors. His lyrical style has often been compared to that of Bob Dylan and Woody Guthrie and his songs have been covered by the likes of Emmylou Harris.

Hancock is also a member of renowned country rock super-group, The Flatlanders, along with his lifelong friends, Joe Ely and Jimmie Dale Gilmore, a band they formed in 1972.

During his acclaimed career, Hancock has written and recorded several landmark albums, some of them sparse and simple, others as big as the West Texas sky. After moving to the progressive country hotbed of Austin in the mid 70s, he started his own label (Rainlight) and released the quintessential West Texas Waltzes and Dust-Blown Tractor Tunes in 1978. In the years that followed he continued to release albums deep with meaning and memory, a foundation that cemented his world-wide reputation as a master wordsmith.

In 1990, Hancock and more than two dozen musician friends staged a Guinness Book of World Records worthy event entitled No Two Alike and played six straight nights of live performances in Austin's famed Cactus Café, recording 140 of his original songs without repeating a single song. He released the staggering output later in the year as the No Two Alike Tape of the Month club. This past year, Butch reprised the event, this time entitling it, No Two More Alike.