Farm and Ranch
Crop, cattle conditions declining around much of the state
Jun 6, 2018
COLLEGE STATION – Emerging drought conditions could be problematic for Texas farmers and ranchers around much of the state as forecasts call for a hot, dry summer.
Dr. Curtis Adams, Texas A&M AgriLife Research crop physiologist, Vernon, said his region experienced extreme drought over the winter but spring rains have helped conditions, depending on location. Adams said rains were enough to allow growers to plant, but more rain is needed because seedling mortality is high in these conditions, as moist soils often quickly dry following planting.
"We went more than 100 days without rain this winter," he said. "The recent rains helped turn things around, but they didn't make up for the extreme water deficit."
Lack of moisture or rain will also have a negative effect on young plants establishing roots, Adams said. Plants without root systems to draw moisture from subsoil levels will be more susceptible to continued dry conditions.
Established dryland crops face tougher conditions as temperatures continue to rise.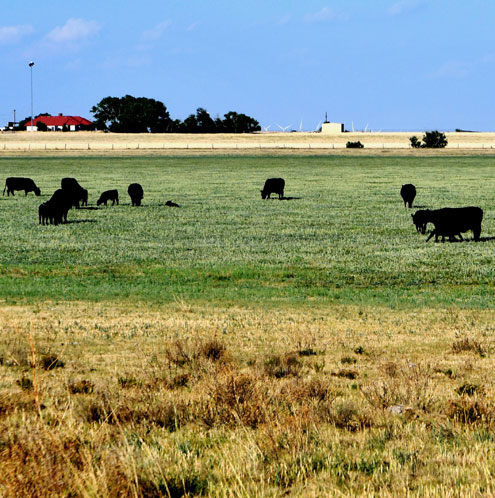 A dried playa lake near Amarillo offers the only green grazing for a herd of cattle. Much of the state is in or nearing drought conditions. (Texas A&M AgriLife Extension Service photo by Kay Ledbetter)
Adams said temperatures have been above–average recently, which is taking a toll on crops and pastures as evapotranspiration rates increase faster than normal. Evapotranspiration is a measure of water loss to the atmosphere by evaporation from the soil and by transpiration from plants.
Conditions have been hot, dry and windy, Adams said, and evapotranspiration rates have been as high as half an inch of water loss per day, very early in the growing season.
"So, if you've received an inch of rain, when conditions are like they are, half of that could be lost in a day, depending on land management," he said.
Dr. John Nielsen-Gammon, state climatologist, College Station, said moisture losses compound warmer conditions.
"The drier the ground is, the hotter it gets," he said. "A lot of the state doesn't have excess soil moisture."
The relieving rain in some parts of the Panhandle brought a few spots to above-average rainfall for the calendar year, Nielsen-Gammon said. But most of the region, especially around Amarillo, has received less than 25 percent of normal rain amounts.
Most of the High Plains and South Texas, from Del Rio to Victoria, are becoming drier, he said, and there is an emerging drought within the Coastal Bend. Northeast Texas, from Dallas to Arkansas, has received less than a quarter of their normal rain amounts over the past month.
Nielsen-Gammon said last month was the second warmest May on record in Texas. The shift from cooler than normal temperatures in April to above-normal temperatures in May was the biggest temperature change from April to May on record.
The outlook for relief doesn't look promising for most of the state this month, Nielsen-Gammon said.
"It looks relatively dry with some chances of rain, but below normal for most of the state and temperatures that are pretty solidly in the above-normal range," he said.
Nielsen-Gammon said June is a historically wet month, but if rain does not materialize the
state could be facing 2011-like drought conditions.
"Check with me in a month," he said. "It's hard to improve drought conditions in July and early August, so this month could be critical."