Religion
Renowned organist coming to Bonham June 23
Jun 23, 2018
Bonham -- Internationally renowned organist Dr. James Hurd will perform on Saturday, June 23, 2018, at 4:00 p.m. at First Presbyterian Church in Bonham, Texas, located at 818 North Main Street. The recital will be sponsored by the Bethlehem Baptist Church and First Presbyterian Church of Bonham. The program will include works classical organ pieces, ragtime piece, plus spiritual, jazz and gospel arrangements. A freewill offering will be taken and refreshments will be served after concert.
Hurd was born in Bonham, Texas and raised in Topeka, Kansas where he received his early education. Dr. Hurd has appeared in organ concerts across the United States and Europe. He has been the featured soloist with three chapters of the American Guild of Organists and with several college and university symphony orchestras.
During the summer of 2001, Hurd was invited to perform at the historical St. Stephenís cathedral in Vienna, Austria, where his performance was broadcast. In the summer of 2015 he performed in Italy, the Franciscan church in Saltzburg, Austria and at the Melk Abbey, also in Austria.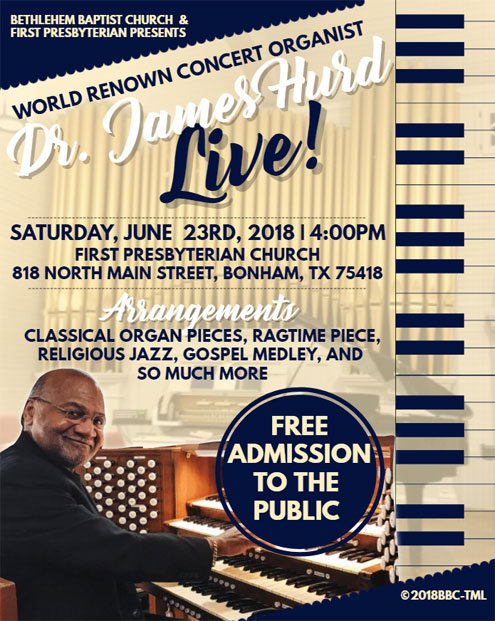 Mostly recently he was the featured organ soloist with a chamber orchestra playing one of Handelís Organ Concertos and the featured soloist in 2016 with the Beach Cities Symphony Orchestra in their performance of Camille Saint-Saenís Organ Symphony.
In addition to activities centered around organ performance, he also serves as a clinician and conductor of numerous events showcasing gospel music experience in America. Dr. Hurd is a Professor of Music at El Camino College and currently serves as organist/choir director at St. Andrews Presbyterian Church, Redondo Beach.