Sports
Big blue catfish stockings underway at many Arkansas lakes
Jul 4, 2018
Anglers may just find the catch of a lifetime waiting for them in Arkansas, thanks to a generous donation from a landowner in southeast Arkansas.
Baxter Land Co. Fish Farm in Arkansas City donated more than 12,000 pounds of catfish, weighing 10 to 40 pounds each, to the Arkansas Game and Fish Commission to give people some added incentive to keep their lines wet this summer. The fish are all blue catfish, raised as brood stock for commercial catfish production.
"We've been able to get more than 600 of these fish," said Clint Coleman, FCFP assistant coordinator. "So we'll be putting anywhere from 10 to 20 fish in our 36 locations in the state."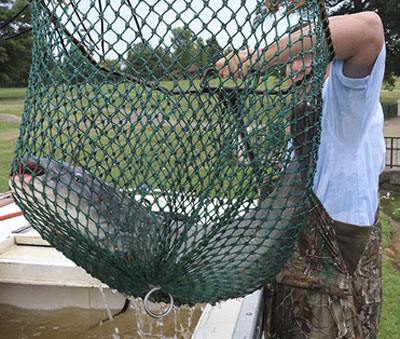 And, If the chance to catch a bruiser isn't enough to get you to the water, FCFP biologists worked with local businesses near each location to offer special rewards for some of these fish. Some of the catfish will be marked with bright yellow tags beside their dorsal fin. Anyone who catches a tagged fish can call the phone number on the tag to find out what prize they've won, Coleman said. Prizes include tackle boxes, rod-and-reel combos and gift certificates to local stores, but a few are worth some big-ticket items, such as kayaks and stand-up paddleboards, donated by some generous retail stores.
The Arkansas Game and Fish Commission Facebook page had a report Tuesday night of a 31-pound blue cat caught in the MacArthur Park Pond, WITH A TAG ON IT!