Local News
July 2018 Hagerman National Wildlife Refuge activities
Jul 6, 2018
Outdoor Crew
July 28, 8:00am
Show your love for nature! Join the Outdoor Crew at Hagerman National Wildlife Refuge, sprucing up trails, trimming and removing brush, trash and general cleanup! The Outdoor Crew meets on the Fourth Saturday only this month. Please email friendsofhagerman@gmail.com for details and top join the team.
Butterfly Garden Walk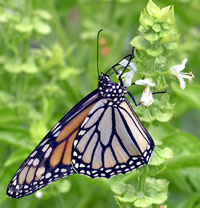 Saturdays, July 7th and July 21st, 9:30am – 11:30am
Enjoy a stroll through the Butterfly Garden at Hagerman National Wildlife Refuge. Come on your own or bring the family. Every first, third and fifth Saturday, Garden docents will be on hand to help you identify the Texas native plants and the butterflies in the garden. Use our close-focus butterfly binoculars to get a really CLOSE look. Special activities for families available: scavenger hunts, meet the Metamorphosis Puppet and more. Garden walks are Come and Go or Come and Stay. The garden is free of charge and open to the public during Refuge hours.
Garden Docents Meeting
Saturday, July 7, 2018, 12:00pm – 1:30pm
Garden Docents meet monthly to train for identifying butterflies and native Texas plants, as well as plan for tours and other garden events. the program for July will be the video, Sex, Lies and Butterflies. Bring a brown bag lunch, dessert and water or coffee provided.
Second Saturday - Alligator Snapping Turtles
Saturday, July 14, 2018, 10:00am – 11:30am
According to National Geographic, the prehistoric-looking alligator snapping turtle is the largest freshwater turtle in North America and among the largest in the world. With its spiked shell, beak-like jaws, and thick, scaled tail, this species is often referred to as the "dinosaur of the turtle world." Learn more about this long-lived denizen of the southeast US, from speaker Aaron White, Tishomingo NWR.
The Refuge Rocks - For Ages 4 - 7
Saturday, July 21, 2018, 10:00am – 11:30am
Bugging Out! Free nature activity program - learn bug facts, hear a bug story, make a bug craft! Please register each child separately; parents or other adult are asked to accompany children in this age group.
The Refuge Rocks - For Ages 8 - 12
Saturday, July 21, 2018, 10:00am – 11:30am
Bugging Out! A bug is a certain type of insect. Some examples you might be familiar with are the box elder bug, milkweed bug, assassin bug, and stink bug. Learn some bug facts at this free nature activity program.
Please register each child separately
FOH Nature Photography Club Meeting
Saturday, July 21, 2018, 1:00pm – 3:00pm
Chris Jackson, the owner of the web site Urban Wildlife will be our speaker for the July meeting. The presentation will be about places in the DFW Metroplex 10-county area covered on his web site that are good for wildlife photography. The sharing theme for the meeting is Wildflowers.
Walt Davis Workshop
Saturday, July 28, 2018, 10:00am – 4:00pm
Walt's next workshop will focus on wildflowers, with a morning of sketching and afternoon spent with watercolors. See instructor bio, attached; supply list will be emailed to those who register. As usual the workshop fee is $35., and non-refundable after July 20. Maximum 20 for the class. Register online or mail check and your contact info to FOH, Walt Davis Workshop, 6465 Refuge Rd, Sherman, TX 75092. In addition to art supplies, bring a brown bag lunch. Cookies, coffee and water are provided.
Walt Davis, signature member and past president of the Southwestern Watercolor Society, began painting in watercolor over thirty years ago. He studied first with Faith Helen Foust at Eastfield Community College then with Bud Biggs. He later attended workshops with Doug Walton, Louise Cadillac, Carole Barnes, Frank Webb, Mark Mehaffey, Richard Stephens, and noted bird artist John P. O'Neil.
Davis has taught watercolor, figure drawing, and plein air sketching at Eastfield Community College, Amarillo College, Panhandle Art Center, San Angelo Museum of Art, and in his studio in Commerce. He has conducted demonstrations and workshops in Amarillo, Brownsville, Dallas, San Angelo and nine other Texas cities.
His work is carried by the Davis and Blevins Gallery in St. Jo, Texas, and his paintings hang in private collections in Washington State, Montana, Florida, Colorado, New Mexico, and cities throughout Texas. His work has been accepted into exhibitions of the American Watercolor Society, Southwestern Watercolor Society, Texas Watercolor Society, Richardson Civic Art Society, Greenville Art League, and Western Federation of Watercolor Societies. His painting, Katy-did, Katy-didn't, won the Margery Soroka Memorial Award in the 2013 American Watercolor Society competition in New York and was included in the Society's traveling show. Two other insect portraits won awards in 2014; one in the Western Federation of Watercolor Societies in Phoenix, Arizona, and the other in the Southwestern Watercolor Society show in Dallas. With the acceptance of the painting Make My Day in the 2015 annual exhibition of the American Watercolor Society, Davis became a signature member of that prestigious organization.
Exhibitions of his work have been held at Eastfield Community College Gallery (Dallas, 1986), Bath House Cultural Center (Dallas, 1992), Panhandle Art Center (Amarillo, 2010), Old Jail Art Museum (Mount Vernon, 2010), Wine Seller (Salado, 2010), Brownsville Heritage Complex (2010), Museum of Nature and Science (Dallas, 2010), San Angelo Museum of Art (2011), "A" Space Gallery (Commerce, 2013), and the Plaza Art Gallery (Paris, Texas, 2014).
Davis created the dust jacket art and sixteen pencil drawings for the book Exploring the Edges of Texas, (2010) and cover art for the book by Fred Tarpley entitled Wood Eternal. He was curator of exhibits for the Dallas Museum of Natural History for fifteen years, a job that required close observation of wild places and the plants and animals that inhabit them. That experience has given Davis a unique point of view from which to interpret nature in watercolor.
Free Tram Tours, Saturdays & Sundays
Take a guided tour of the refuge with an expert birder aboard the open air, all-electric Carlos and Eulalia Cardinal Express! Enjoy a trip along Wildlife Drive and some of the Pad roads at the Refuge, with frequent stops to view and photograph wildlife, especially birds. Learn about the history of the town of Hagerman and the operation of the refuge.
This 60-90 minute guided tour is offered on Saturdays and Sundays at 2 pm, weather permitting. Seating space is limited; please call to reserve your seat: 903-786-2826 between 9am-4 pm Monday thru Saturday or from 1pm to 5 pm on Sundays. Please speak to a volunteer when making or cancelling a reservation as volunteers are unable to access messages on the Refuge phone system. Tours are recommended for ages 6 – adult and are free of charge; however, donations to the tram maintenance fund are appreciated.