Columnists
Crow's-Feet Chronicles: We took it to the limit
Jul 2, 2018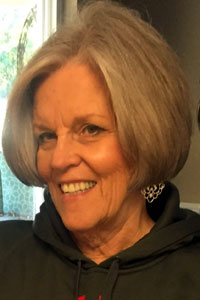 Listen to me, my pretties. If you give your husband tickets to see the very band that made you fall in love, be prepared for all things frisky. For his birthday, I gave Lanny Joe two tickets to see The Eagles, and I got a PEACEFUL EASY FEELING when he allowed me to use one of them.

We joined 80,000 of our closest friends at AT&T stadium on ONE OF THOSE NIGHTS when the Eagles, plus newly added Vince Gill, gave a stupendous performance IN THE CITY. The NEW KID IN TOWN was Deacon Frey, son of the long-time and dearly-departed member of the Eagles, Glenn Frey. Although Glenn was ALREADY GONE, the resemblance was astounding and we couldn't GET OVER IT.

Yes, I've said that Clint Eastwood and Robert Redford still have it. But, I'm here to tell you that the Eagles can still keep up with LIFE IN THE FAST LANE. The camera's close-up view on the big screen of aging hands with arthritic knuckles and gnarly fingers revealed the same old' familiar swift strumming of the strings. While sitting through a fast two-and-a-half-hour concert, Lanny became a DESPERADO, knowing the Queen of Hearts was his best bet, and I felt like a WITCHY WOMAN with the moon in my eye.

Admittedly, we could have seen and heard better if we were watching The Eagles on television, but the energy of the crowd at AT&T Stadium was an experience not to be equaled. Even though we could see Russia from our seats. And even though we stood up eleventy-seven times to allow the beers and pee-ers to pass in front of us.

Remember when the parking lot was a stand-still as stadium events ended and everybody wanted to get home? Uber has changed that. But not really. Because 50,000 of our closest friends decided the same thing.

I was able to speak with our driver on the phone. "Is this Abhishek?"

"(Inaudible)"

"We're facing Collins Avenue, and I'm wearing red slacks." Several minutes later. "What color is your car?"

"(Inaudible)"

"Abhishek, are your nearly here?"

Finally, Abhishek responds: "You said 'red socks.' I'm on my way to DFW Airport with a passenger wearing red socks. Are there two of you wearing red socks?"

Ugh! Someone with red socks and LYIN' EYES jumped into our Uber car. I knew it would be HEARTACHE TONIGHT. I hadn't seen 11:00 p.m. in years, and I was so tired that all I wanted to do was get to our HOTEL CALIFORNIA.

Lanny Joe, the BEST OF MY LOVE, said, "Cindy, don't worry---YOU ARE NOT ALONE. Let's make THE LONG RUN to THE SAD CAFÉ. It'll be okay. Let's just TAKE IT EASY.

I wondered whose red socks were nestled in THOSE SHOES in our Uber.