Local News
City of Anna names Jeff Caponera as new Police Chief
Jul 2, 2018
Anna, Texas (July 2, 2018) -- Jeff Caponera, a ten-year veteran of the Anna Police Department, has been named Police Chief, after having served several months as interim Chief.
Chief Caponera began his law enforcement career in 1995 with the Adams County Sheriff's Department in the Denver, Colorado metropolitan area. He served with that department for two years followed by six years with the City of Thornton, a suburb of Denver.
In 2003, the Chief made his way to Texas, joining the Collin County Constable's Office in Precinct 1 for a brief period. From there, he joined the Anna Police Department as a Sergeant, rising to Lieutenant in 2014. Upon the departure of the then-incumbent Chief early this year, Caponera was appointed interim.
At a June City Council meeting, Chief Caponera's appointment was made permanent by interim City Manager Maurice Schwanke. He will be officially sworn in as Chief at the July 10 City Council Work Session.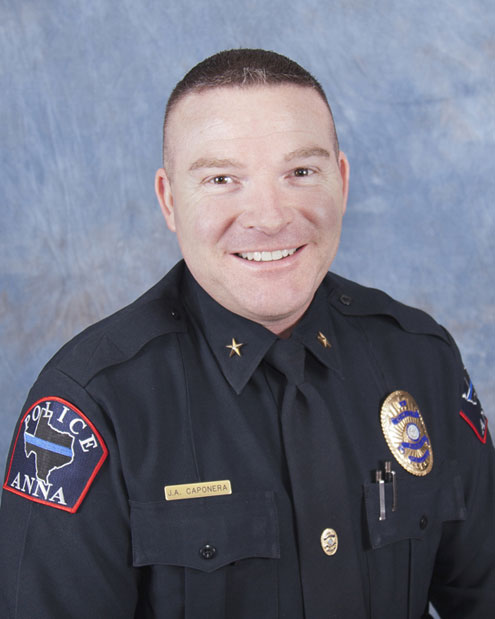 Anna Police Chief Jeff Caponera
In addition to his field experience, the Chief has provided extensive training in various law enforcement areas and disciplines. He has been an instructor at the Colorado Institute for Law Enforcement Training, providing high-level instruction in a variety of courses, including in-progress calls, domestic violence response, pedestrian stops, and traffic law and enforcement. The Chief was also the academy's lead emergency vehicle operations instructor.
He is a certified crisis negotiator, field training officer and supervisor, master peace officer and grant writer. During his career with the Anna Police Department, Chief Caponera has written applications for several grants, securing over $1M in funding. These grants have provided the necessary funds for the acquisition of personnel and equipment required to meet the demands of a growing and emerging community.
Caponera earned a Bachelor of Science degree in Public Administration from Regis University in Denver and is a graduate of the 53rd session of the School of Executive Leadership from the Institute for Law Enforcement Administration (ILEA).
He serves on the Criminal Justice Policy Development Committee through the North Central Texas Council of Governments, is a member of the Career and Technical Education (CTE) program board at Anna ISD, a Big Brothers Big Sisters of Dallas mentor, and an active member of the Hurricane Creek Rotary Club.
Throughout his career, Chief Caponera has adopted the principle of providing servant leadership through character, honor, respect, integrity, service, and trust. He has been married to wife Janna for 15 years and has two sons, Anthony, 25 of Aurora, CO and Preston, 18 of Thornton, CO. He enjoys flying and is working toward obtaining his private pilot certification.

ABOUT ANNA – The City of Anna is a fast-growing community located in northern Collin County. Anna's population is approximately 13,000 residents occupying over 4,000 households. This emerging and vibrant city offers its residents an excellent quality of life and low cost of living. With much of the City's land still undeveloped, and the population expanding annually, the community is becoming an attractive location for retail and commercial establishments. The City's ready workforce is skilled, well-educated, and comparatively young. Residents enjoy recreational opportunities, parks, trails, open spaces, easy access to the DFW and Red River corridors, and a pace of living that matches both a relaxed hometown and an emergent community.