School News
July offers kids activities at Creative Arts Center - Camp and book signing
Jul 6, 2018
Bonham, Texas -- The Summer Camp fun continues at the Creative Arts Center this month. Camp weeks scheduled are July 16-20 and July 30-August 3. Art and Voice will be offered from 10:00 a.m. to noon and Theater will be offered from 12:30 p.m. to 2:30 p.m. and families need to sign up in advance.
Children who participated in June camps will receive a discount!
Eric Vest returns to teach art - he was a popular teacher in 2017 and Anna Waller will be teaching Voice. Cost of art, voice or theater is $60. Or, choose both a morning and afternoon session and stay the day for $100. There is a sibling discount too!
On Saturday, July 21 from 9:00 a.m. to 1:00 p.m., local artist/author Tammy Lightfoot of Telephone, Texas will be at the CAC for a book signing of her new children's book - What If a Zebra Served Tea to a Yak? The book has just been published and Tammy will be selling her books and signing them. Come meet the author and purchase your signed copy! Bring the little ones and read to them while you're visiting the CAC.
And Children's Art in the Afternoon class continues through the summer on Wednesday afternoons from 4:00 p.m. to 5:00 p.m. for children who wish to take weekly art class. The class is for all levels, ages 6 years and up and costs $40 per month. It is taught by Katherine Kluger, a retired educator, a variety of subjects and media are covered.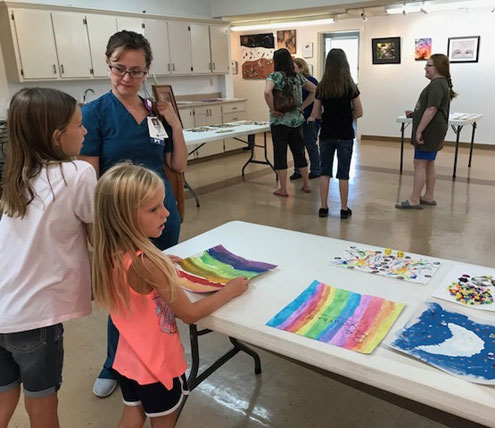 Parents and students discuss the week's art projects.
For more information on these and other programs at the Creative Arts Center, call 903-640-2196.