Lifestyles
The quilting fun is about to start hopping
Jul 26, 2018
Bonham, Texas -- With ten different locations and over 300 quilts to view, the fun just doesn't end. This year the Sam Rayburn Library will bring from the University of Texas at Austin, Boldly Graphic: Two Color Quilts from the Winedale Quilt Collection. This type of quilt relies on pattern to catch your eye. Red designs on white and blue designs on white were the most popular designs used. These quilts could be pieced or appliquéd.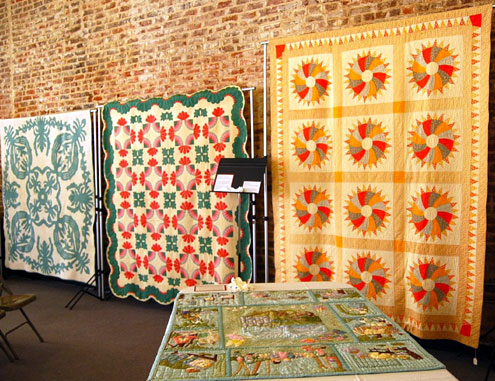 Bonham Visitor Center display during a previous Quilt Hop
Both the Fannin County Museum of History and the Fannin County Historical Commission will be showing quilts from the local community that are thought to have been made in the 1920's and 1930's. The Fannin County Museum, which is known as one of the best small-town museums in Texas will also be showcasing their other collections. The newest addition is the Caboose which is located outside the museum.
Quilt Hop display from a previous event at Fannin County Museum of History.
The Creative Art Center will be displaying quilts made by Alice Wilhoit who is a quilter, pattern-maker, writer and teacher. Alice will be our featured speaker at the reception on Friday afternoon at 5:00 p.m. Also, on display will be quilts from Bonham's own, Leo Ransom who does pieced fabric portraits and then quilts them. You will not believe that they are crafted from tiny fabric pieces.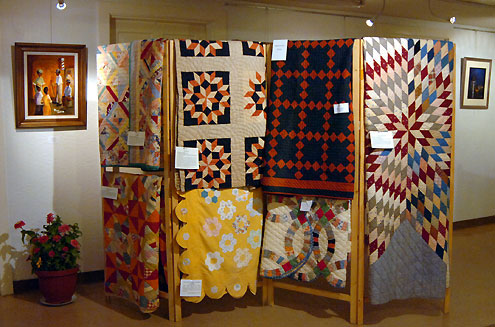 Once again, quilts will be on display at Creative Arts Center during the annual Bonham Quilt Hop.
Are you ready to have Christmas in July? The Senior Center will be showing holiday quilts which they have made. They also will be demonstrating hand quilting. If you have a quilt or you know someone who has a quilt that they would like to have hand quilted ask the ladies at the Senior Center about scheduling a time for your quilt to be done. They would be glad to talk to you about that possibility. The Senior Center will not open until 1:00 p.m. on Friday, but opens at 9:00 a.m. on Saturday.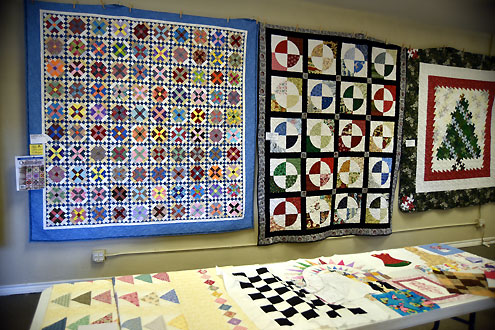 Bonham Senior Citizen Center quilt display during a previous Quilt Hop
The City of Bonham Visitor Center will show area quilts, which will include a quilt made for a 50th anniversary by a teenage boy. This is so unique you will not want to miss see it.
If you have a quilt that you would like to show, please bring it to the Bonham Visitor Center, 327 N. Main St. Monday, July 23. The form to fill out for displaying your quilt can be found at www.visitbonham.com.
Join us as we hop from one quilt show to another quilt show on Friday, July 27 and Saturday, July 28. 9:00-4:30 on Friday and 9:00-4:00 on Saturday. This event is free.