Lifestyles
Musical duo Still on the Hill brings their mountain music to Harmony House Aug. 11
Aug 11, 2018
On Saturday night, August 11, '18, 7:30-9:30 pm, Harmony House Concerts welcomes back Still on the Hill. If your energy level needs a boost, this couple of singer-songwriters can provide it! Donna and Kelly Mulhollan of Fayetteville, AR, will have you moving in your chairs. You are invited to come enjoy this power-packed performance as Donna and Kelly bring their own interpretations of Appalachian music. Their ability to become a part of the audience and to allow the audience to become an intimate part of their show is unsurpassed by most musicians.
Kelly and Donna of Still on the Hill are award winning 'story-telling songwriters'. Different from most singer-songwriters, this dynamic duo embellishes their songs with a host of unique instruments from the hills they call home. Many of these were handmade by old-timers and have amazing stories that go with them. Their 'low tech' PowerPoint presentation has become a trademark of shows; every song has a photo quilt to go with it.
Kelly Mulhollan is a fifth generation native Arkansan. At six years old he cut his teeth playing ukulele and listening to Bob Dylan, Woody Guthrie, and Pete Seeger. Now when he plays the guitar, banjo, mandolin, harmonica, ukulele or upright bass, you can hear all those influences—along with his strong Ozark roots—coming through to create a sound that is unique to Still on the Hill.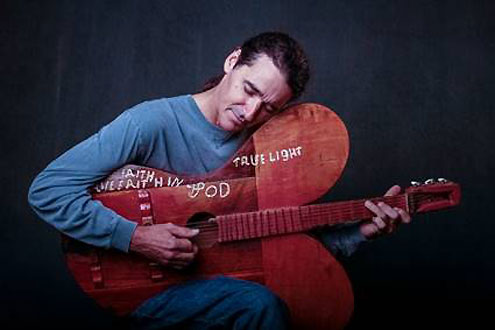 Kelly's masterful songwriting dips into the deep well of history, and his love for the Ozarks is alive in every word and note that he plays.
Donna Mulhollan learned the fiddle in the kitchen with her dad, who played the guitar and sang old Hank Williams and Bob Wills songs. For 35 years she toured the country playing with various country-western bands, and even did a stint with a large Las Vegas show. At 18 she had met an old fiddle maker named Denton Boze who lived in a tarpaper shack in the Arkansas backwoods. Donna wrote her first song about him, opening a floodgate of songs, many about people and places in the Ozarks.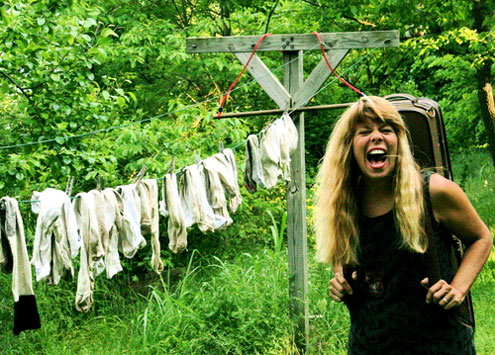 Donna's instrumental palette includes several one-of-a-kind Ozark-made fiddles, mandolin, musical saw, scrub-board, ukelin, guitar, mule-jawbone and Ozark pickin' bow.
Donna and Kelly will play two 45-minute sets with a 30-minute intermission for mingling, snacking, getting better acquainted with the entertainers, and purchasing CDs. Faye and Scott will provide coffee, tea, and assorted punches made with herbal teas and organic fruit juices that have no sweeteners added. A basket will be on the breakfast room table for any optional $1 cash donations to help defray the costs of the hosts, Faye and Scott. There will be no potluck dinner after the show. Guests are asked to bring finger foods to share on tables provided throughout the house.
Make reservations by calling 903-583-2661 and leaving your contact information (preferably an e-mail address) and number of seats desired. The requested donation is $15 per person. If you want to pay in advance, please make your check to Kelly Mulhollan and mail to Faye Wedell; P.O. Box 812; Bonham, TX 75418 to be received by Thursday, August 9th. Guests may pay at the door with cash or check. However, if you make a reservation, please have the courtesy of showing up, as 'No-Shows are No-No'. If you have to cancel, please do so as early as possible should there be a waiting list. If you have already paid, your money will be returned if you cancel by Thursday, August 9.
Harmony House is located on Wildscape Acres about 10 miles North of Bonham, TX and 65 miles NE of the Dallas metroplex. It is a vintage home reclaimed and brought to this prairie surrounded by woodlands. The whole atmosphere helps you to unplug from your usual busy world and takes you back in time when folks gathered in homes to sing, play music, and listen to stories. To learn more about us, visit our website, www.WildscapeAcres.com (with a link to Harmony House and its scheduled line-up). To learn even more about the Harmony House Concerts, go to our Harmony House Concerts Group Facebook page, where there is information about each gig and its acclaimed performers/ singer-songwriters, links to videos and more.
INTERESTING SIDEBAR STORY: On the morning after Still on the Hill's last performance here, Faye and Scott recall sitting around the breakfast table with them and Joseph Leavell, a friend from Dallas (also, a musician at heart). Joseph suggested to Donna that he treat her and Kelly to a Costa Rica adventure for her 60th birthday. This all culminated in a "Bird Watching Safari" to Costa Rica that included Jack Williams, another beloved songwriter, and wife Judy. Both Kelly and Jack are avid bird watchers. Faye and friend Diane joined the group and it was the 'time of a lifetime'. The highlight of the trip was the wedding ceremony between Kelly and Donna on a covered bridge over the Sevigre River — which was running wildly over the rocks in a tropical downpour. Donna's wedding attire was an outfit that had belonged to Faye's mother, the late Elizabeth May. Everyone was dancing to the music of Jack's guitar after the couple said their vows. Each person on the tour had a role in the wedding — even our van driver who was the 'flower girl' and threw lovely tropical flower petals upon the extraordinary and memorable event. (You had to be there.)