Local News
Yard Sale & BBQ in Wolfe City Aug. 3-5 to benefit North East Texas Trail
Aug 4, 2018
Wolfe City, Texas -- A dedicated group of volunteers are leading a grassroots effort to build/repair and maintain the North East Texas Trail (NETT), a 130-mile bike/hike/run/equestrian trail from Farmersville to New Boston. These volunteers operate solely off of donations and grants. With your help we can save this green space for future generations!
The volunteers are asking for your junk for our fundraising yard sale for the NETT! You can drop off or volunteers can pick up. Anything left unsold will be donated to Women in Need.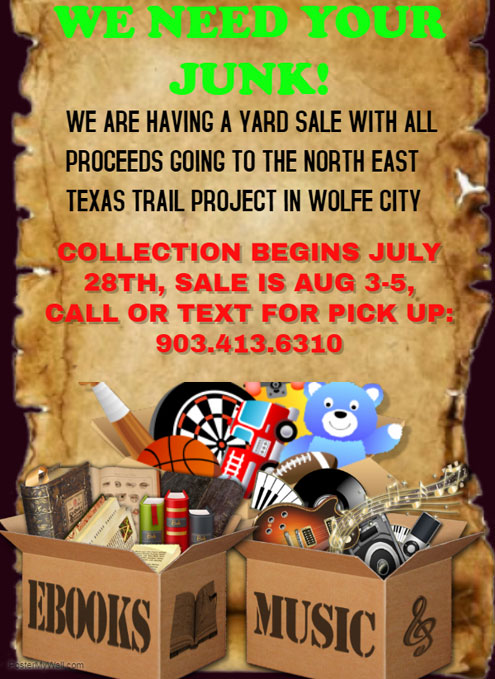 Y'all come out to Wolfe City for our yard sale August 3-5 and enjoy some tasty BBQ! All proceeds will go to the North East Texas Trail (NETT) project in Wolfe City.
This sale will be open from daylight to dark Friday, Saturday and Sunday. We will be selling BBQ sandwiches and plate lunches Saturday and Sunday from noon till 6:30. We will be set up at main street and the trail - just follow the signs!
Stop by Saturday and Sunday to visit with Jack Neal, executive director of the NETT and stay for the Wolfe City Rodeo!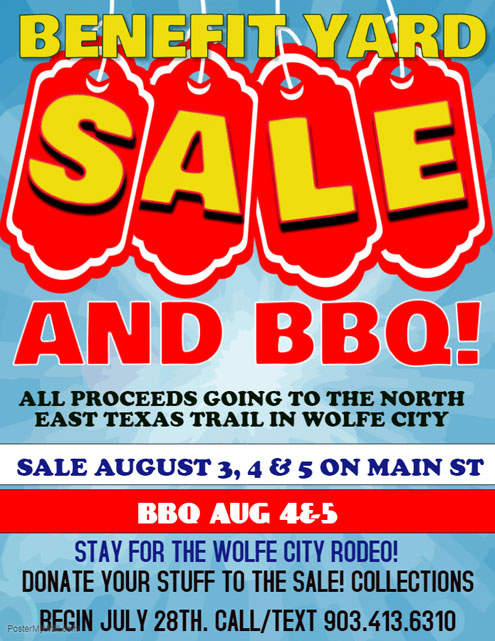 Please share this! People like you are the ones who keep these grassroots efforts alive!