Religion
First Presbyterian Church to include Traditional Jazz Music in worship service
Jul 27, 2018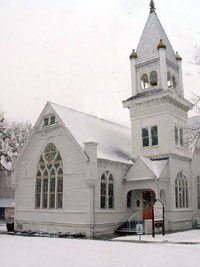 Bonham, Texas -- Sunday, July 29, 10:00 a.m., First Presbyterian Church, Bonham, will be including Traditional Jazz Music in the worship service. They will also have guest speakers, Tom and Ellen Boehmer, followed by a 5th Sunday Pot Luck. All are invited!

The instrumentalists are from First Presbyterian Church in Bonham and from the Dallas Area.

Several of the members participating in this special service are:

Jon Stutler, clarinet, has been playing Traditional and Swing Jazz since his teens. A native of Arlington, Texas, he also taught junior high and high school band for 15 years. The Razzmajazz Band (www.razzmajazz.com) was founded in 1985 and continues performing today. He is a graduate of University of Arlington, and University of North Texas.

Jack Allday received a set of drums for his 15th birthday, and has been playing ever since. A graduate of SMU, he served in the US Army before managing his own advertising business for more than 30 years. He currently is Director of Athletics at the University of North Texas at Dallas.

Scott Whitfield has a Bachelor of Music degree from Midwestern State University with a major in theory and composition, and a primary performance concentration in clarinet. He is frequently a headliner and featured performer at banjo festivals across the nation. He also served as Dean of the International Banjo College. Scott has many years' teaching and performing experience, teaches all styles, and works well with all ages.

Monte Ashcraft is the Choir and Handbell Director at First Presbyterian Church in Bonham.

Susan Toland is the accompanist and leader of the Praise Band at First Presbyterian Church in Bonham.

Irving Miller is known throughout the community for playing his saxophone with several organizations and with the First Presbyterian Church in Bonham.